Healthcare identity management solutions
Identify with confidence to drive your most important initiatives
Healthcare is personal, and the most successful organizations "know their people" — including patients, members, consumers, and providers. Enable your organization with comprehensive, current, and accurate identity data with healthcare identity management solutions from Rhapsody.
Contact an expert
Read the eBook
Decades of healthcare identity management experience. Powerful results.
Healthcare organizations across the globe have trusted Rhapsody Identity solutions, including EMPI and Provider Registry, for decades to bring clarity to disparate identity data, power their most strategic initiatives, and support their overall master data management strategy. With the support of both KLAS®-leading health data integration solutions and experienced customer support and services, our ability to deliver is unmatched.
Engage patients with confidence
Maintain continued trust with consumers as you introduce new ways to interact with them, digitally and in-person.
Deliver safer patient care
Equip care teams with access to current, comprehensive, and accurate data for each patient throughout their care journey.
Make better decisions
Whether it's supporting value-based care initiatives or driving advanced analytics, ensure you're starting with accurate person data.
Proven results. Amazing outcomes.
Billions of records managed across more than 100 customers worldwide. Our customers are doing amazing things with the help of Rhapsody Identity data management solutions.
"It's the responsibility of any organization collecting patient data from multiple systems and sites of care to have an EMPI in place, and it's extremely important to have one that has market maturity behind it."
Kim Chaundy
Senior Director of Operations, KeyHIE
"Rhapsody helps us put the power of data to work for better health outcomes, lower costs, and thriving communities. Bringing data exchange, identity data management, and terminology management together into a suite is an inspired idea and well aligned with our business challenges."
Jaime Bland
CEO, CyncHealth
"We saw about a 30% increase in the volume of orders our customer would send us after we implemented Corepoint Integration Engine and Rhapsody EMPI. I can't help but think that the ease of use on the customer side contributed to the increase in volume we saw. There is no doubt."
Nick Wetherwax
IT Director, Great Lakes Medical Imaging
Essential reading
Know your people
Identity data is at the foundation of everything you do. Learn more about why the time is now to prioritize investment in patient identity data management solutions.
Patient identity management
Create an accurate and comprehensive view for each person to be used throughout the enterprise.
Learn about Rhapsody EMPI
The state of patient data matching
We asked, you answered. Read the results from a survey of provider and HIE organizations summarizing their challenges and opportunities related to identity data management.
Read more about the state of patient matching
New and noteworthy
Insights, guides, and use cases from the world's healthcare interoperability experts
View resources
Article
Rhapsody Takes Top Spot for EMPI in Recent Black Book Ranking
Over 900 Hospitals and Inpatient Organizations and 4,000 Physician Practices Participated in 2023 Financial and RCM Solution Survey
Read more >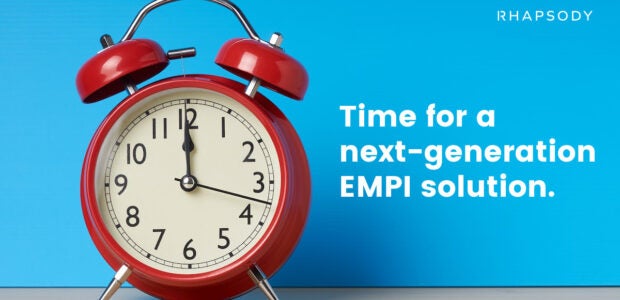 Article
Outgrown IBM Initiate or another legacy EMPI? Time for a next-generation solution.
Understand the cost reduction opportunity and find an alternative to IBM Initiate or another legacy EMPI
Read more >
Article
Opening a digital front door that removes friction between patients, providers, and payers with trusted, actionable data
Geisinger shares they're freeing up resources, boosting efficiency, and transforming how healthcare data is used throughout Pennsylvania with Rhapsody integration and identity solutions
Read more >
Data security is patient safety
Rhapsody® health solutions are trusted by 1,700+ healthcare organizations around the world, in part because of our commitment to data privacy and security. We have experience complying with complex regulations around the world. In addition to HIPAA and GDPR, there are country-, region-, provincial-, and state-specific regulations and certifications that we stay on top of to ensure compliance for ourselves and our customers.
Talk to the identity experts today
Ready to discuss your healthcare identity data challenges? Let's talk.