Healthcare Information Exchanges and Qualified Health Information Networks
Simplify & scale health data exchange
Trust modern, adaptable solutions from Rhapsody as you pursue opportunities with healthcare providers, payers, and public health agencies.
Talk to an expert
Rhapsody Interoperability Suite
Expanding health data exchange
Build solutions to share data across your community
Flexible solutions from Rhapsody can power new use cases for health data, reaching providers, payers, and the public sector.
Power health outreach
With Rhapsody health solutions, HIEs gain a foundation for analytics and outreach programs, helping their partners to improve health equity.
Integrate SDOH data
Rely on Rhapsody health solutions to integrate your chosen data sources for social determinants of health, contributing to partner initiatives in a meaningful and differentiated way.
Onboard new data exchange partners
Deploy Rhapsody health solutions to launch data-sharing with new partners beyond provider organizations, including public sector agencies, community organizations, and national data exchanges.
Respond to public health emergencies
Proven Rhapsody health solutions help HIEs and public health teams manage timely responses to public health crises.
Webinar
Leading health data-sharing
Leaders of ManifestMedex and HealthInfoNet join Rhapsody Chief Strategy Officer Drew Ivan to discuss how their organizations fill gaps in health data and pioneer new use cases with their partners.
Proven solutions for health information exchange
Flexibility and range for health data integrations
Rhapsody Integration Engine gives your team a flexible toolkit and an infinitely configurable platform for health data integration, while you launch new initiatives and partnerships.
Learn about Rhapsody
Exchange accurate identity data for each and every person
Rhapsody EMPI resolves patient identity inconsistencies so you can confidently develop analytics and deliver accurate information to support quality patient care.
Learn about Rhapsody EMPI
"The Rhapsody EMPI on AWS has been a foundational tool in supporting our network's digital maturity and fostering an integrated approach to community health"
Cody Johansen
Director, HIE Services, Utah Health Information Network (UHIN)
"With Rhapsody, we are able to match patient data at an enterprise level and connect the dots from various stakeholders across the community to support value-based care delivery and positively influence the health of our citizens."
Kim Chaundy
Senior Director of Operations at KeyHIE (Pennsylvania)
"It only took about a week and a half to stand up our COVID dashboard, and that's largely due to how well we have been able to identify individuals and match their data. Our robust matching system from Rhapsody was key for standing up the dashboard quickly and making sure it keeps running smoothly as long as we need it to."
Kevin Conway
Data Integrity Manager at CyncHealth (Nebraska, Iowa)
Resources for Health Information Exchanges
Insights, guides, and use cases from the world's healthcare interoperability experts
Resources for HIEs
Article
Health equity hinges on healthy data
Access to clean, actionable data is the key to health equity initiatives. Data integration, normalization of terminology, and data enrichment enable healthcare leaders to more accurately evaluate the social, economic, and physical environments that impact a person's health.
Read more >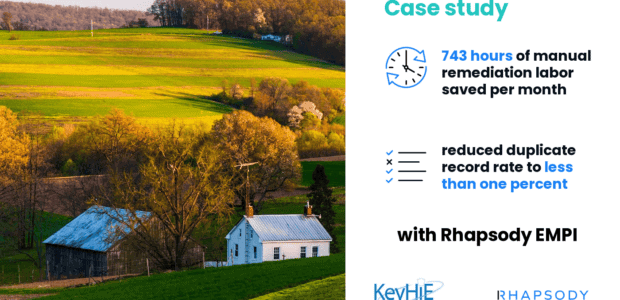 Case studies
Rhapsody EMPI saves KeyHIE 743 hours of manual labor per month while establishing an integrated network of accurate, accessible health records
KeyHIE uses interoperability solutions from Rhapsody to create an integrated network of accurate and accessible patient data while saving 743 hours of manual labor per month.
Read more >
Case studies
CyncHealth
CyncHealth uses the Rhapsody EMPI for robust patient matching to help identify COVID-19 outbreak patterns and allocate resources during the pandemic.
Read more >
Data security is patient safety
Rhapsody® health solutions are trusted by 1,700+ healthcare organizations around the world, in part because of our commitment to data privacy and security. We have experience complying with complex regulations around the world. In addition to HIPAA and GDPR, there are country-, region-, provincial-, and state-specific regulations and certifications that we stay on top of to ensure compliance for ourselves and our customers.
Get connected today
Connect with one of our interoperability specialists to learn how Rhapsody can help you focus on delivering better healthcare.