Rhapsody EMPI
Know your people
Accurate identity data improves clinical and operational outcomes, yet it is often inaccurate, incomplete, or inconsistent. These challenges can erode patient trust, make it difficult to implement patient-centered initiatives, and ultimately result in revenue loss. Rhapsody EMPI improves the accuracy of patient data by linking records across systems, giving you complete control of data across your entire organization.
Get a demo
Guide: Be a champion for healthy data
Create confident person identity data across your ecosystem
Designed to be flexible enough to meet you where you are. Rhapsody EMPI is a proven, best-of-breed enterprise master person index (EMPI) designed to facilitate real-time data exchange. This solution helps improve the clinician experience, accelerate time to onboarding post M&A, and help providers tackle targeted engagement initiatives.
Data transparency
A 360° view of each person across disparate systems, a clear line of site to data history, and optional data stewardship help improve patient and clinician experiences.
Integration expertise
Supported by the powerful Rhapsody Integration Engine, EMPI makes it easy to connect with data sources throughout your organization.
Built for scale
Rhapsody EMPI is deployed around the world, driven by an extensible data model that can support a wide range of requirements and grow along with your organization.
Gartner® Report
Hype Cycle™ for Real-Time Health System Technologies
This complimentary Gartner® Hype Cycle™ serves as a resource for CIOs and examines digital health technologies and solutions on the rise, business impact, obstacles, and recommendations for how to select technologies such as a Next-Generation EMPI.
Why your EHR patient identity solution is not enough
Decades of experience results in a identity data management solution that creates a single, centralized and reliable view that can be shared upstream and down. Choose the EMPI designed to improve data quality while connecting healthcare.
1. An enterprise unique identifier (EUID) is assigned to each person
The unique identifier links records from an unlimited number of sources to support at 360-degree understanding of each person. This resolves identity inconsistencies from one system to the next.
2. Trusted person data is aggregated into a single best view
Tailored to your unique population, this record can be shared and creates a link to each record about the person.
3. The EMPI is configured to meet your requirements
Data variations or inconsistencies are automatically identified.
4. Data inconsistencies are resolved or highlighted
When data variations are intentional, related records are linked, duplicates are found, and records that may benefit from data stewardship are spotlighted.
5. Data stewards may engage per your organizational policy
An intuitive user interface supports and helps automate data stewardship workflows.
Proven integration for successful implementations
Integration is where most EMPI implementations stumble. All Rhapsody EMPI deployments are supported by the powerful Rhapsody Integration Engine to help you get up and running quickly and confidently.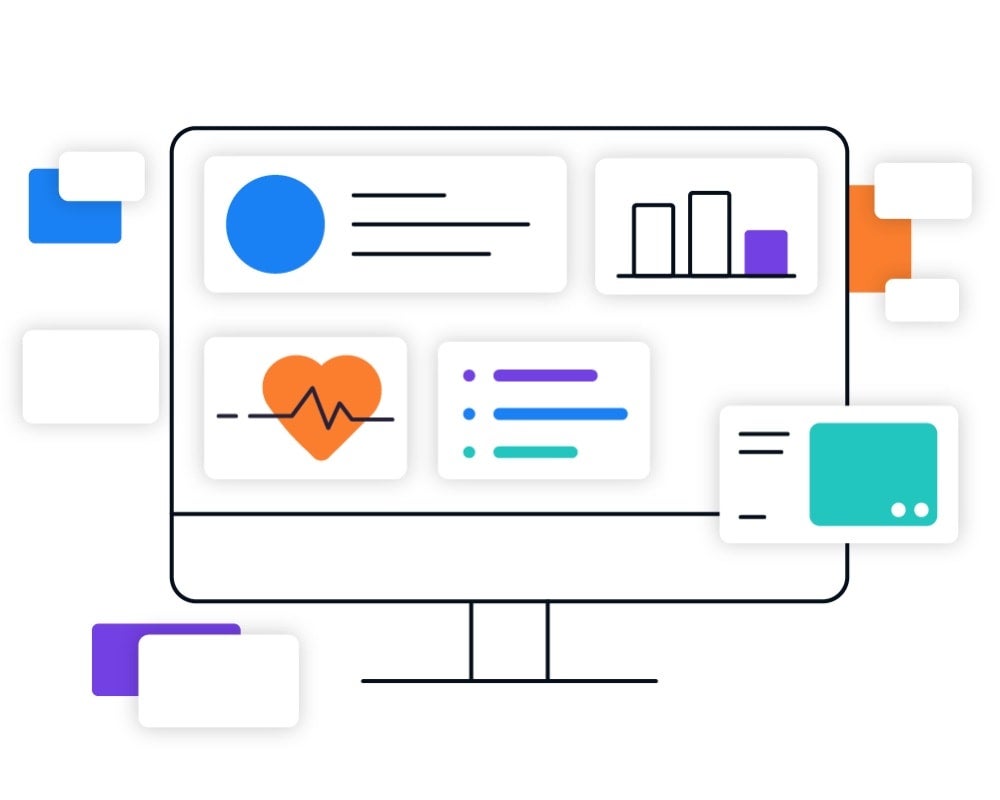 New and noteworthy
Insights, guides, and use cases from the world's healthcare interoperability experts
Dive in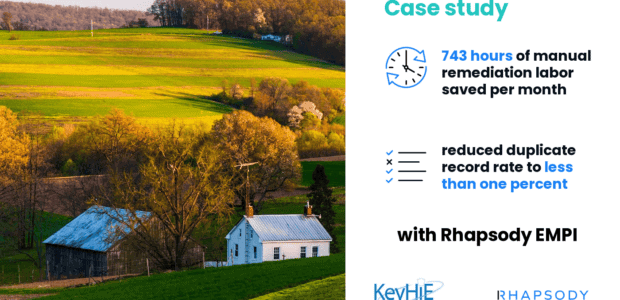 Case studies
Rhapsody EMPI saves KeyHIE 743 hours of manual labor per month while establishing an integrated network of accurate, accessible health records
KeyHIE uses interoperability solutions from Rhapsody to create an integrated network of accurate and accessible patient data while saving 743 hours of manual labor per month.
Read more >
Article
Rhapsody Takes Top Spot for EMPI in Recent Black Book Ranking
Over 900 Hospitals and Inpatient Organizations and 4,000 Physician Practices Participated in 2023 Financial and RCM Solution Survey
Read more >
Article
Up-to-date patient data across your organization: The power of real-time outbound notifications with Rhapsody EMPI
Learn how Rhapsody EMPI's real-time outbound notifications streamline patient data management, enhancing analytics and patient care.
Read more >
Easy deployment, unquestioned security 
Go live in no time. Out-of-the-box connectivity to Rhapsody Integration Engine speeds time to go live.
Well-documented APIs. Use the extensive API toolkit to rapidly integrate the EMPI with the rest of your enterprise.
Secure and certified. Available as a HITRUST, and ISO 27001 certified managed Software-as-a-Service (SaaS)
Who knows the patient better than they do?
Rhapsody EMPI now features Verify, an integrated knowledge-based verification solution. Ask patients directly – via text, email, or patient portal – to confirm their personal information and take the guesswork out of resolving some of your most difficult cases.
Customer-proven results
Rhapsody EMPI has saved KeyHIE 743 hours of manual remediation labor per month and reduced the duplicate record rate to below 1%
"After a great deal of due diligence, we came to the conclusion that Rhapsody offers the most mature and robust EMPI solution on the market."
Tom Visotsky
Chief Commercial Officer, MedAllies
"The outcome of the RSD project acknowledges the strong partnership between Queensland Health, Alcidion and Rhapsody and realizes the benefits of our combined expertise to successfully deliver this key component of the Queensland Health iRMS program."
Kate Quirke
Managing Director, Alcidion
"Rhapsody's rigorous process of identity matching ensures we stay on top of data quality as the new systems are integrated – our ultimate aim is to encompass all episodes of care. Connecting Care is now seen as strategically important in the digital agenda and fulcrum to the transition plans for health and social care locally."
Jocelyn Palmer
Connecting Care – Greater Bristol, UK
Guide
Know your people
Learn the risks of inaccurate patient records and find out how healthcare leaders can build confident person data with an enterprise master person index.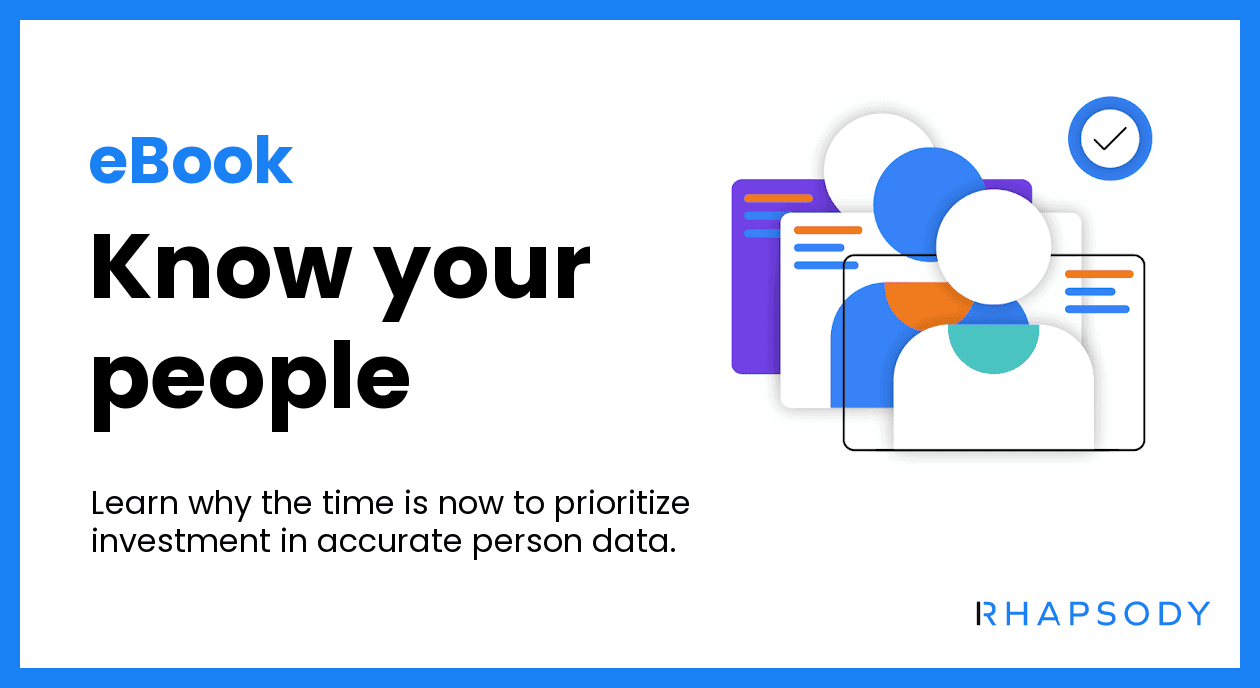 Data security is patient safety
Rhapsody® health solutions are trusted by 1,700+ healthcare organizations around the world, in part because of our commitment to data privacy and security. We have experience complying with complex regulations around the world. In addition to HIPAA and GDPR, there are country-, region-, provincial-, and state-specific regulations and certifications that we stay on top of to ensure compliance for ourselves and our customers.
Start building your solutions today
Connect with one of our interoperability specialists to learn how Rhapsody can help you deliver better healthcare.