Clinical Data Interchange (CDI)
Integrate clinical data into your health plan ecosystem
Rhapsody helps makes clinical data available to support health plan operations, including member engagement, care coordination, member experience, and analytics.
Talk to an expert
Guide
Integrating clinical data
Get started on your journey to clinical data integration for higher-quality data and improved member engagement.
Meet 21st Century Cures Act guidelines
Provide members with increased access to their health information and improve interoperability to meet federal guidelines.
Integrate data with complete confidence
Rhapsody solutions meet the privacy, security, and safety needs that health plans require.
Turn data into insights
Build your risk-adjustment strategies with comprehensive data.
Rely less on clearinghouses and EDIFACT transactions
Reduce costs associated with transactions for eligibility and benefit verification, prior authorization, claims submissions and more.
Focus on your members
Level up on member experience
Leverage data to help close gaps in care, improve care coordination, and assess the impact on quality measures.
New and noteworthy
Insights, guides, and use cases from the world's healthcare interoperability experts
Dive in
Article
What payers need to know about integrating clinical data
Rhapsody thought leaders explain the technical challenges posed by new CMS rules and share perspectives on how payers can leverage the changing data landscape to get ahead.
Read more >
Guides
Cut the Costs of Claims-Related Transactions
Claims-related transactions among healthcare providers, health plans, payers, and vendors are time-consuming and costly.
Read more >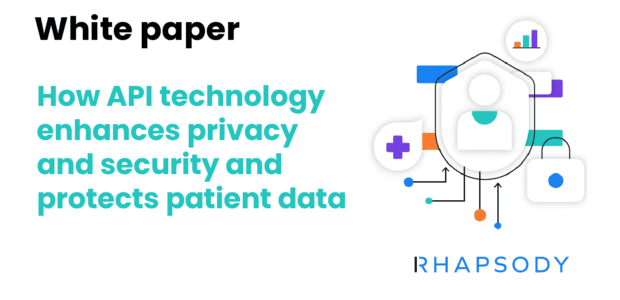 White papers
How API technology enhances privacy and security and protects patient data 
As API adoption accelerates, privacy and security must stay top of mind for healthcare leaders in the United States
Read more >
Solutions that are purpose-built for healthcare

Simplify and secure healthcare API management
Create, publish, maintain, and monitor APIs at scale, including the ONC and CMS mandated FHIR APIs, with the Rhapsody API Gateway.
Learn about Rhapsody API Gateway
Get the interoperability solution you need
Customize for any environment with Rhapsody Integration Engine, a flexible solution that enables your expert team to build quickly with a scalable cost.
Learn about Rhapsody
Data security is patient safety
Rhapsody® health solutions are trusted by 1,700+ healthcare organizations around the world, in part because of our commitment to data privacy and security. We have experience complying with complex regulations around the world. In addition to HIPAA and GDPR, there are country-, region-, provincial-, and state-specific regulations and certifications that we stay on top of to ensure compliance for ourselves and our customers.
Get connected today
Connect with one of our interoperability specialists to learn how Rhapsody can help you focus on delivering better healthcare.