360-degree patient view
Better understand patients' health histories by breaking down data silos
With fewer in-office patient visits, new reimbursement models, and more virtual care, having access to the right clinical data at the right time has never been more important.
Interoperability for private practices
Integrate data from multiple applications and systems.
Share data efficiently
Ease administrative burdens and expenses associated with data exchange.
Lighten the load
Ease physician burden associated with health IT, EHRs, and interoperability.
Data when you need it
Send and receive patient data efficiently, accurately, and securely for more informed care decisions, coordination, and to promote value-based health care transformation.
New and noteworthy
Insights, guides, and use cases from the world's healthcare interoperability experts.
Dive in
Article
Epic Selects Lyniate for Integration within the Epic Garden Plot Offering
Read more >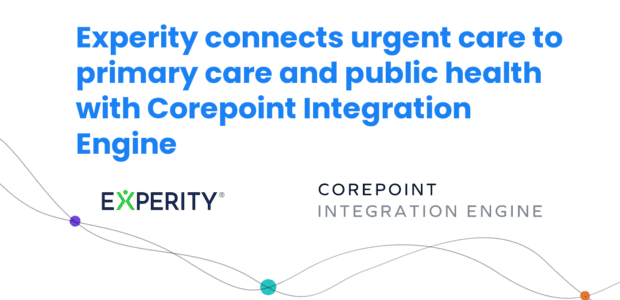 Case studies
Experity connects urgent care to primary care and public health with Corepoint Integration Engine
Learn why Experity chose Corepoint Integration Engine to deliver clinical documentation where it's needed most to help their clients deliver on-demand healthcare.
Read more >
Article
Rhapsody Health Solutions Earn Best in KLAS® Distinction for Integration Engine Category with Overall Scores of 95.7 and 92
Leader in Healthcare Data Interoperability Receives Top Rankings for 14th Consecutive Year
Read more >
Solutions for ambulatory clinic interoperability

Simplify connections with a turnkey integration engine
Corepoint delivers a code-free configuration and allows you to maximize return on investment with streamlined interface development and testing.
Discover Corepoint
Hosting for expert integration teams
Build health data exchange in a scalable and secure cloud environment without burdening you're your internal resources.
Learn about Envoy Managed Services
Interactive guide
How to reinvent interoperability
The people and products that support integration have come a long way. It's time to investigate products and services that can help you reinvent this central part of your architecture and jump on a competitive advantage.
Data security is patient safety
Rhapsody® health solutions are trusted by 1,700+ healthcare organizations around the world, in part because of our commitment to data privacy and security. We have experience complying with complex regulations around the world. In addition to HIPAA and GDPR, there are country-, region-, provincial-, and state-specific regulations and certifications that we stay on top of to ensure compliance for ourselves and our customers.
Get connected today
Connect with one of our interoperability specialists to learn how Rhapsody can help you focus on delivering better healthcare.