One thing we learned
One of the more well-attended sessions during Day 2 of ViVE2022 was The Complicated Convergence of Clinical and Claims Data. What was initially billed as a conversation about how payers and providers can work better together to share data to drive patient care evolved into a rich and varied conversation about the future of interoperability and how challenges in interoperability are secondary to challenges in care delivery.
Topics ranged from whether doctors even care about interoperability (spoiler: they care more about the care it enables) to each panelist sharing their most unpopular opinion on healthcare and interoperability.
The one that caught my ear the most was that FHIR is best suited for new and unique workflows and use cases that are not sufficiently addressed by existing interopability solutions, namely HL7v2 feeds.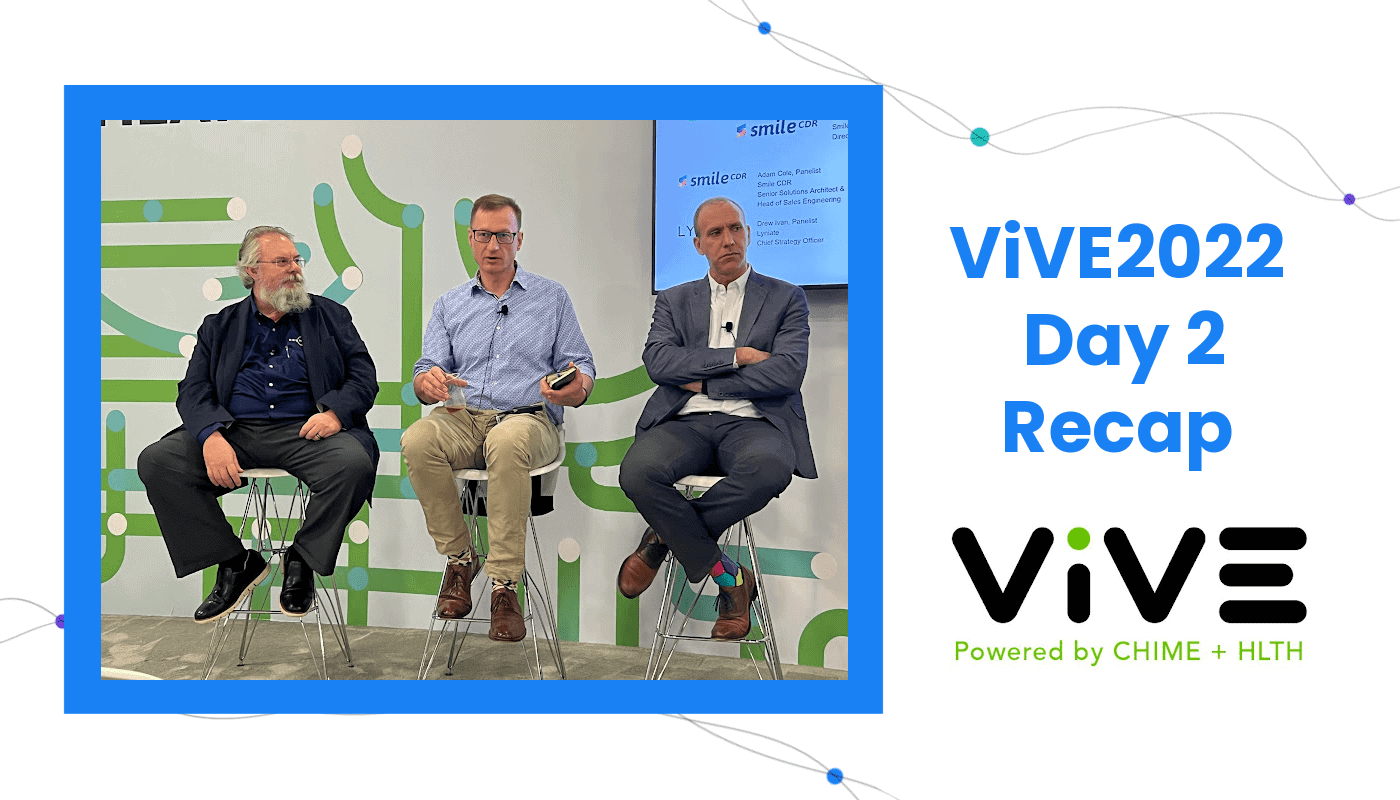 Conversations we enjoyed
Over the past two days, Drew Ivan, chief strategy officer for Rhapsody, has spoken with several of our friends in the media, including Matthew Holt from The Health Care Blog, and Fred Bazzoli, editor of Health Data Management. Bazzoli had this to say about his conversation with Drew:  
What's hard about #interoperability ? A lot, and #FHIR is only one piece, says @drewivan @lyniate . Challenge will grow as more types of health data is incorporated in a person's total health picture. "You have to accommodate all the sloppiness of data." #ViVE2022

— Fred Bazzoli (@fbazzoli) March 8, 2022
View from the floor
Drew also participated in a panel discussion called The Role of Testing and Certification in Compliance and Interoperability. While standards are critical, standards alone don't guarantee interoperable systems in the field, according to The Drummond Group, which sponsored the panel. Panelists shared their perspectives on the value of testing and certification related to real-world deployments of FHIR—particularly those related to the Da Vinci Implementation Guides.
Happenings at the booth
Speaking of accreditation, one of the more inspiring booth conversations took place with a product analyst from the National Committee for Quality Assurance (NCQA). NCQA typically accredits health plans on organizational workflows that pertain to services such as Case Management and long-term services and supports (LTSS) programs.
The analyst we spoke with was curious about interoperability because she is doing research into developing an accreditation program around the use of natural language processing (NLP) in the delivery of care to ensure that they are equitable and consistently used.
She was interested in the role that interoperability plays in the development and population of these NLP algorithms, how it might be improved upon, and what pitfalls may exist.
Observing these sessions and conversations underscores why our mission—Building Connections for Healthier World—is so important to us.