Da Vinci is a U.S. project that is particularly interesting as it brings together payers and providers of healthcare, along with HL7 International, with a common goal to improve healthcare and reduce waste by moving to an outcomes–based model of care, rather than a purely transactional fee–for–service type of model.
This is commonly referred to as value-based care, reflecting that it is the overall value that is delivered — improved outcomes at the lowest cost of those outcomes — that is important.
Such a move significantly increases the need for high–quality, timely exchange of data between participants that do not normally share data easily, and selecting FHIR® as the standard to use demonstrates the belief in those communities that FHIR has the maturity, acceptance, and staying power that is needed to support this exchange.
The project also recognized the importance of the FHIR approach to standards development — open collaboration between all participants, development of reference implementations that can be used for testing, and practical testing at Connectathons — before the Guides are finalized.
There are a number of Use Cases (and Implementation Guides) that are part of the overall Da Vinci project. Initially 12 were identified — of which two were chosen to start with, and three more are in the active phases of development.
Data Exchange for Quality Measures (DEQM)
As described above, value–based care is all about improving quality, which means that there need to be concrete measures that can be used. The DEQM Use Case measures the rate at which Medline Reconciliation is performed by a patient's usual healthcare provider after discharge from hospital. This needs to be completed within 30 days, so the measure is the proportion of reconciliations performed on discharged patients.
Coverage Requirements Discovery (CRD)
This refers to the need to understand what a payer needs to authorize payment for particular procedures — whether investigations or treatment. This can be a complex question as it depends on the patient's insurance plans, the procedure being planned, pre-existing conditions, and so forth. Because of this complexity, this Implementation Guide uses the new HL7 CDS Hooks standard to streamline the process. CDS Hooks describes a way that an application (like an EHR) can invoke logic hosted by an external organization such as a Payer. In summary:
The clinician using the EHR selects a procedure (

such as

a referral to a specialist)

Using a pre-defined hook, the decision support service is called

,

which receives the required clinical data and determines

i

f this procedure

is

covered for this patient,

and includes

other relevant information such as any co-payment, possible alternatives, or pre-conditions

(

such as a specific form to be completed or required test results needed first

)

The outcome is displayed to the ordering clinician
All this occurs in real-time, so the clinician and patient can decide whether to proceed with the procedure, or to look at alternatives.
The next three Use Cases are new — and related as the following diagram shows. (This diagram is taken from its Project Scope Statement, a document that describes the purpose for any FHIR–related project). At the time of writing (this is very new), details are scarce (though participation in the projects is always welcomed by the project teams).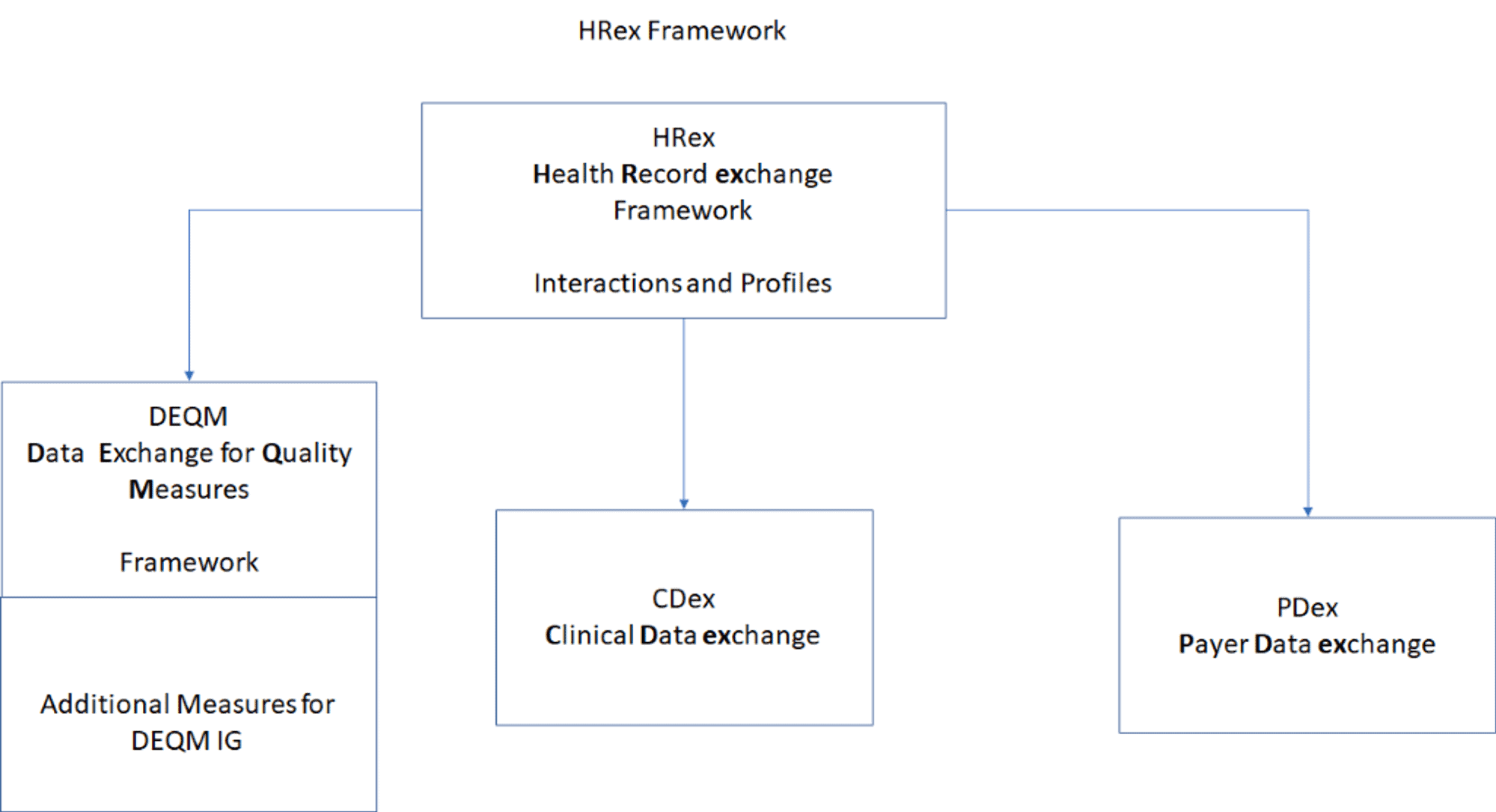 Health Record Exchange (HRex)
This Implementation Guide describes the patterns of exchange between Payer and Provider, such as:
T

he API (direct REST, CDS Hooks, push and

,

so forth)

P

ackaging of resources for the exchanges

R

ules for things

such as

Provenance and security measures
Clinical Data Exchange (CDex)
This represents the data flowing from providers to other providers and to the payer. It will include profiles on clinical resources for specific Use Cases
Payer Data Exchange (PDex)
This is data travelling from the payer to the provider – such as previous payer history and previous claims
While DaVinci is still in the early stages, there has nevertheless been significant progress made, as evidenced by a demonstration at HIMSS in 2019.
Da Vinci represents a historic level of cooperation between participants in the U.S. healthcare sector — including participants that are competitors — in an effort to improve healthcare by moving from a transactional fee–for–service model to a patient–centered outcomes model, also known as value-based care. It's yet another example of the impact that FHIR is having on the health IT sector, in ways that we did not anticipate when we started this journey.
And the consumer will be the ultimate beneficiary.
And unlike the Argonaut project, I'm not sure why Da Vinci was chosen as the project name — perhaps because of his ingenuity and willingness to create change.
David Hay is a consultant specializing in HL7 FHIR and author of the blog Hay on FHIR. David graduated from medical school in 1981, but after a few years of clinical practice moved into the health IT sector, where he has remained since. He is active in the international standards community, traveling widely to give talks about FHIR and related topics.