Migrating data integrations to the cloud helps healthcare organizations pursue new business opportunities, strengthen data security, and contain costs.
By migrating data integrations, healthcare organizations are well-positioned for cloud-based healthcare infrastructure modernization, the process of transitioning information systems to the cloud.
Among healthcare organizations surveyed by KLAS, 60% had moved their electronic medical record (EMR) applications to a hosting or cloud environment, and these numbers are expected to increase. The healthcare cloud computing market is expected to grow at a compound annual growth rate of more than 16%, according to market research company Grandview Research. That's because cloud computing supports business growth, while delivering value through a more streamlined technology strategy.
Migration to modern cloud infrastructure empowers healthcare organizations to adopt state-of-the-art technologies that can open the door to new growth opportunities. Cloud infrastructure delivers the speed and reliability that healthcare consumers expect in today's digital world.
What is cloud infrastructure modernization?
Cloud infrastructure modernization in healthcare involves healthcare organizations transitioning from on-premises technology to remotely hosted applications. Cloud computing in healthcare is growing, but some systems are still designed for on-prem use.
A healthcare organization's IT infrastructure is a combination of various vendor systems. At many organizations, an internal IT team builds, maintains, and secures vendor applications and the data integrations that connect them. These responsibilities have grown as organizations exchange information with payers, or manage local or regional data exchange, such as healthcare information exchanges.
While on-premises infrastructure gives the IT team complete control of each system, the team shoulders upgrades, maintenance, and implementing new systems. Adding resources (people and financial) to support an integration can be difficult.
Coordinating with external organizations and their vendors adds layers of complexity. Local hardware isn't easy to expand. Organizations run the risk of downtime and latency, potentially jeopardizing clinician satisfaction and patient experience.
Modern cloud infrastructure mitigates these risks by providing a secure environment to process health data and a cost-effective, resilient, and scalable infrastructure.
Many healthcare organizations operate in a hybrid technology environment. In a hybrid environment, some applications are local, while others are cloud-based. Other organizations operate in a multiple-cloud environment, with applications remotely hosted by several or many managed services.
What are the benefits of migrating healthcare integrations to the cloud?
Migrating healthcare integrations to the cloud enables healthcare organizations to scale up data exchange quickly and securely, while realizing benefits related to collaboration, costs, and resilience.
1. Increased Security
Cloud environments are pre-built for security. A report from AWS indicates that companies using AWS found yearly security incidents decreased by 34%. Cloud service providers ensure security of healthcare data while adhering to industry policies and regulations.
Managing compliance and security for healthcare data can be a huge task for a healthcare organization's IT team. Cloud services are typically secure environments and comply with government regulations and relevant industry standards. With large teams dedicated to security and compliance, managed service providers protect data through best practices, policies, and specialized tools. Your team gets time back to modernize internal operations and pursue new initiatives.
2. Predictable Costs
Cloud-based healthcare integrations are a financial advantage. Agreements typically feature on-demand, use-as-you-need services. Organizations only pay for the services used, considerably reducing costs. Migrating to the cloud can reduce IT operational costs as maintenance and upgrades are taken care of by the services provider.
3. Scalability
Healthcare integrations aren't set in stone. That's because the health data ecosystem continues to expand. Most healthcare organizations regularly deploy new technology and data sources, including telemedicine, online scheduling, customer relationship management systems, and more. These newer systems need to communicate with each other and with the EHR.
During the past decade, mergers and acquisitions have been common in healthcare, a trend that's expected to continue. Smaller hospitals and physician groups are joining larger integrated delivery networks to realize economies of scale, as described by Deloitte.
The ongoing digital transformation of healthcare and the growth of healthcare organizations require technology infrastructure to rapidly scale, accommodating more data and more users.
Scaling an on-premises IT environment requires a long lead time. The technology team needs to purchase and set up physical servers, storage, licenses, and network equipment. Healthcare customers relying on a cloud environment can scale automatically and quickly respond to a surge in data processing.
After an organization migrates healthcare integrations to the cloud, healthcare customers can review usage metrics, tracking peaks and valleys in system usage. These insights help technology teams predict changing needs.
4. Storing Data
With rapid developments in the healthcare sector, existing systems may not have enough storage space for all the data that's generated. Health data is expected to expand at a compound annual growth rate of 36% through 2025, faster than manufacturing, financial services, or media and entertainment, according to research by International Data Corporation and Seagate Technologies.
Healthcare cloud infrastructure modernization offers limitless capacity. As healthcare organizations transition data storage to the cloud, they will also have to support data-sharing between multiple IT systems and organizations and across various data exchange formats.
Healthcare organizations are pursuing data analytics and machine learning, generating high volumes of data. Cloud storage is simple and fast to expand, while automatically backing up health information.
5. Improve Collaboration
In today's remote working environment, cloud-based platforms make it easier for team members to collaborate, with employees and clinicians accessing systems remotely.
A cloud-based data integration platform, managed by a vendor that's expert in healthcare interoperability, supports faster integrations between departmental systems (such as imaging) and the EHR.
As a result, the IT team can deliver on new requests and use cases for data interoperability. Timely, informative data, reaching clinicians at the right time, supports clinician satisfaction and high-quality care, meeting consumer expectations.
6. Resiliency
IT infrastructure needs to be future-proof and stand the test of time. With cloud infrastructure, planning and automating quicker recovery of services comes out of the box. Cloud-native automation tools ensure that services can quickly failover and recover.
Cloud-based integrations provide failover options within the same data center and support easy paths to disaster recovery, with the ability to failover to data centers in other geographic regions.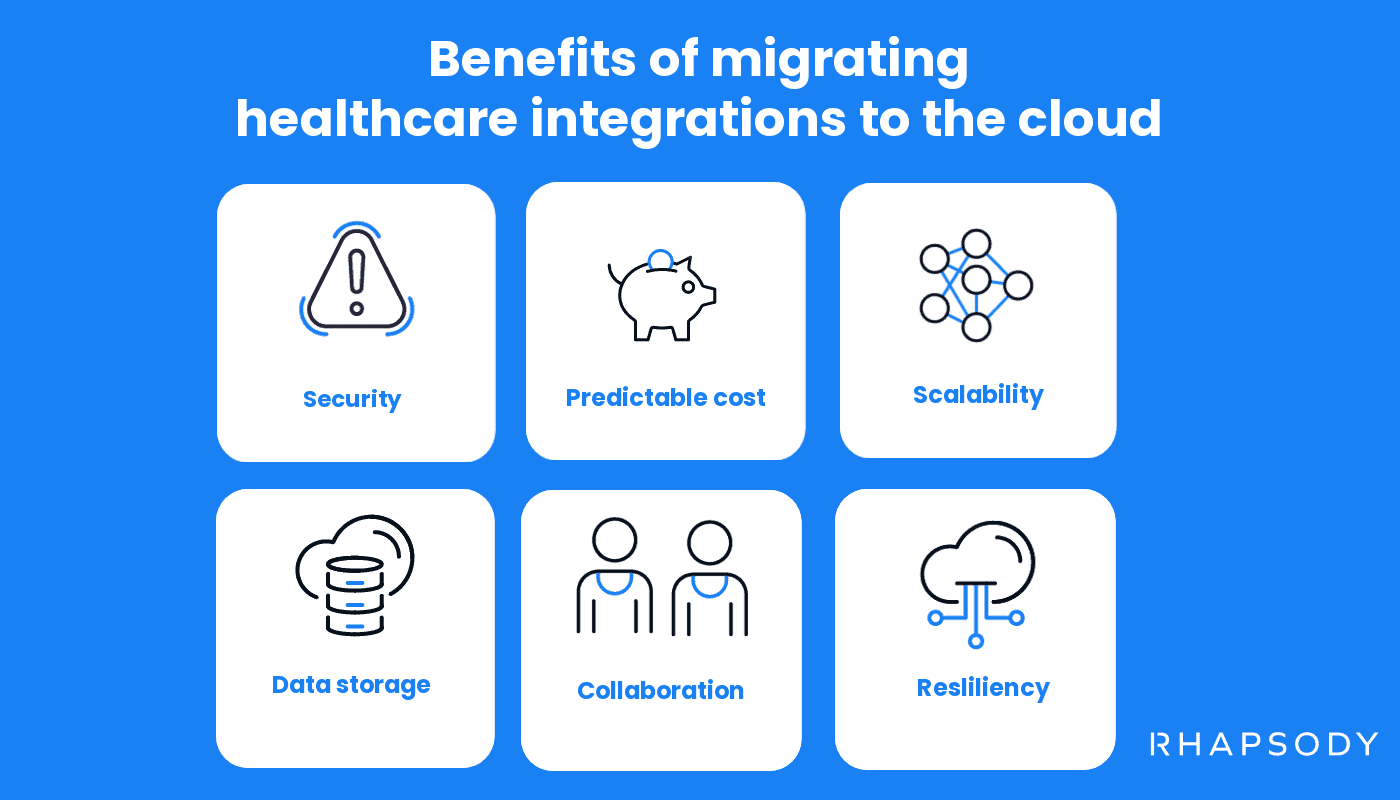 How do you modernize infrastructure in healthcare IT?
To modernize healthcare IT infrastructure, a healthcare organization needs to assess its current IT ecosystem and determine if and when specific systems should reside in the cloud. Migrating data integrations to the cloud is key to modernizing healthcare IT infrastructure. With the majority of healthcare providers transitioning EHRs and other key systems off-premises, maintaining data integrations in the cloud is a more streamlined approach to managing organization-wide technology.
For faster migration and minimal maintenance, healthcare organizations are choosing cloud-based integration solutions managed by healthcare interoperability experts. Migrating healthcare integrations to the cloud is an initiative that requires planning around both technology and workflow.
An experienced vendor can help your organization develop a migration plan and guide you through the different phases of the migration. You and your vendor will need to answer crucial questions together, including:
Does the current configuration for data exchange still work well for the organization?
Do we need to make configuration changes to support changes in workflow?
Which integrations should be migrated first?
Who will be responsible for mapping each data connection, building a test environment, and managing the cutover from the previous system to the cloud-based environment?
Depending on your team's bandwidth, you may choose to have your vendor manage the plan, build, testing, and implementation processes, in consultation with you.
How do Rhapsody health solutions help healthcare customers modernize IT infrastructure?
Rhapsody provides cloud migration services, with experts managing configuration and all aspects of ongoing maintenance, scalability, and security. We offer customers a range of migration services, depending on their preferences for managing the migrations in-house or relying on our project management expertise. Once the migration is complete, our services include complete, ongoing management of our customer's healthcare integrations in the cloud.
Healthcare organizations choose Rhapsody health solutions because we:
Support any data standard
Deploy where you want to
Right-size our services
Are 100% healthcare focused
Offer unmatched customer service, backed by #1 Best-in-KLAS rankings.
Learn how Rhapsody helps healthcare organizations migrate integrations to the cloud.
Learn more about the Rhapsody partnership with AWS.
Also read: The power of Rhapsody as an AWS partner, APIs in public health, and who had the best barista station.