An enterprise master person index (EMPI) helps healthcare organizations strengthen quality of care and reduce costs. That's because EMPI solutions improve patient data integrity. In the average health system, 18% of patient records are duplicates, according to Black Book Market Research. Organizations using EMPIs can significantly reduce their rate of duplicate medical records.
A duplicate patient record may lack crucial medical information for the patient, including allergies, medications, and previous medical care. It may include errors that jeopardize billing and derail communication with patients. Inaccurate patient information contributes to more than 30% of all denied claims, costing the average hospital $1.5 million and U.S. healthcare $6 billion annually.
By implementing an EMPI, a healthcare organization can significantly reduce duplicate patient records and correct errors in patient demographic information. More accurate patient data contributes to improved clinical decision-making and enhances patient satisfaction and loyalty.
Many types of healthcare organizations can benefit from an EMPI.
What is an EMPI and how does it work?
EMPI stands for enterprise master person index. A modern EMPI system links patient information from different healthcare information systems, including electronic health records, lab, pharmacy, billing, telemedicine, and customer relationship management (CRM).
A healthcare organization may deploy an EMPI to manage patient data from external sources, such as payer organizations and medical devices.
An EMPI uses data science to identify duplicate records and errors in patient demographic information (such as misspellings, typos, transposed dates, and outdated/missing information).
Deterministic algorithms look for an exact match between data elements across records.
Probabilistic algorithms estimate the likelihood that several records belong to the same person and provide a score. Higher scores indicate greater probability that the records belong to the same individual.
Referential matching compares patient contact information to external data sources. Gartner notes that next-generation EMPIs use cloud-based, commercially available data sources to further confirm individuals' identity.
EMPI solutions create a unique enterprise identifier (EUID) for each patient and aggregate the best, most up-to-date data for each patient.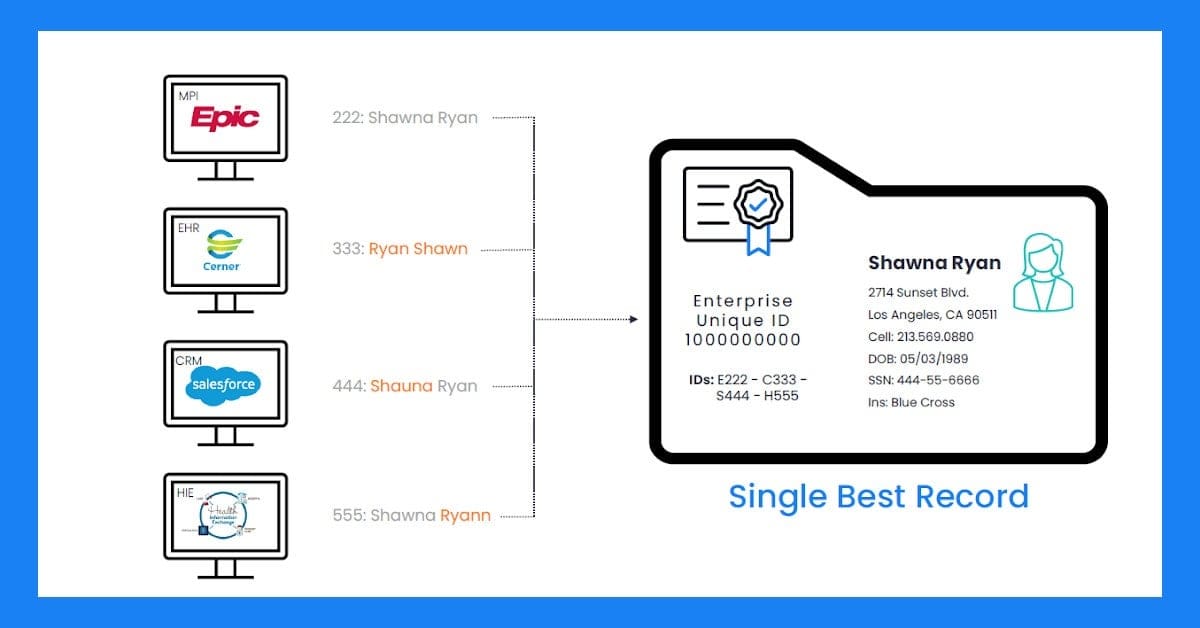 Why do healthcare organizations need EMPIs?
Healthcare organizations are purchasing EMPIs to make patient demographic data more accurate. More than 90% of the errors contributing to duplicate medical records occur during patient registration, according to a study by Johns Hopkins University.
A misunderstanding or typo by patient-registration staff can lead to a duplicate patient record being created for a patient who previously received care from the healthcare organization.
Errors and omissions leading to duplicate patient records often involve:
Names: multi-part, misspellings, swapped first and last names, use of middle initial
Numbers: transposed dates, incorrect digits, issues with Social Security Number (SSN)
Newborns and Senior/Junior family relationships
Default values like 1900, BABY BOY, 999-99-9999
Duplicate patient records also occur when several healthcare organizations merge and prepare to transfer patient records to an organization-wide electronic -health records system. Duplicate rates are worse (20%) within organizations that have completed a recent merger, which have been common in healthcare as organizations seek to reduce operating costs and gain market share.
Healthcare organizations are addressing these issues by purchasing EMPIs, with a goal of improving patient data accuracy.
What is the difference between an MPI and an EMPI?
An MPI (master person index) manages patient data within a single electronic health records (EHR) system, while an EMPI spans many information systems to link each patient's records across a healthcare organization.
As health data has become increasingly electronic, information systems have proliferated across healthcare. Data on the same patient can exist in an EHR and in separate departmental systems, all within the same healthcare organization. An EMPI addresses the problem of disconnected patient data by using the enterprise unique identifier to connect data across MPIs and other sources.
Although most electronic health records systems include MPIs, these systems were not created to work across multiple information systems. MPIs also have difficulty working across the same vendor's EHR installed at different organizations. That's because EHR systems are usually configured to the specifications of each customer organization. An EHR configuration is known as an instance.
When healthcare organizations complete mergers and acquisitions, they often have to reconcile patient records across different EHR systems (from different vendors) or across different instances of the same EHR.
For example, one large integrated delivery network discovered that its match rate fell to 50-60 percent when sharing health records across facilities with separate instances of the same EHR software. Other organizations cited similar declines in match rates when data is shared across unaffiliated organizations.
The need for patient data clean-up and validation, as well as ongoing identity data reconciliation, leads healthcare organizations to invest in an EMPI. Gartner describes a next-generation EMPI as offering proprietary and industry-standard messaging and APIs (application programming interfaces) to match, link, and merge patient records across different systems and apps.
Learn more about APIs for healthcare.
How does an EMPI improve patient records?
An EMPI improves patient records by keeping patients' demographic information accurate, complete, and current. Gartner notes that next-generation EMPIs include active and passive integration, providing demographic information to patient registration teams at both the beginning and end of patient registration.
Patient safety is the most important reason for prioritizing medical records accuracy. No healthcare organization wants to run the risk of clinicians accessing a flawed medical record or providing incorrect care (or failing to provide required care) because of an identity issue.
Duplicate and incomplete medical records contribute to delays in emergency room care, additional and unnecessary testing, and delays in surgery (due to missing information on patient medical history).
Besides supporting patient safety and higher quality, medical record data integrity contributes to a smoother, more efficient patient experience.
EMPIs support consistent customer service throughout a healthcare integrated delivery network, ensuring that front desk and registration staff can easily access each patient's correct contact information.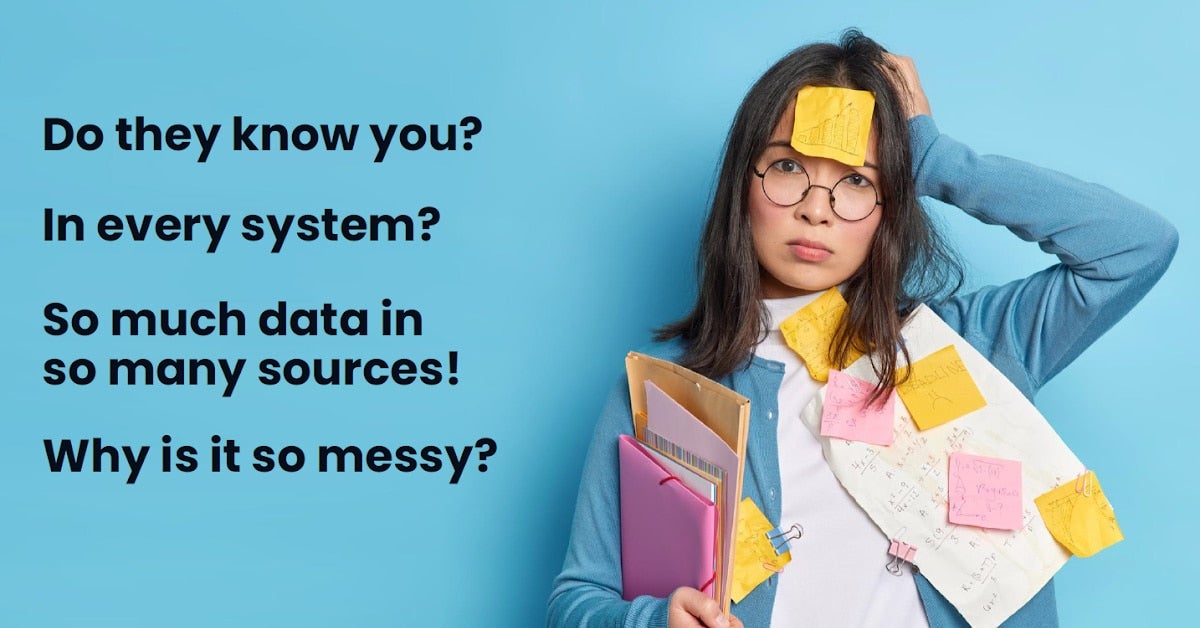 How does an EMPI increase revenue for healthcare organizations?
According to Gartner, healthcare providers can increase revenue and decrease costs by deploying next-generation EMPI solutions. Learn more about next-generation solutions.
With an EMPI, technology and data management teams can become more productive, reducing costs. EMPI systems also support more accurate billing, leading to faster reimbursements from payers.
Reducing operational costs
The automation and data stewardship tools that EMPIs provide help healthcare organizations boost productivity.
EMPIs automate the duplicate record clean-up process at healthcare delivery organizations and healthcare information exchanges, saving staff hundreds of hours of time previously spent on records review and manual corrections.
For example, Key HIE, a health information exchange serving 5.8 million patients in Pennsylvania and New Jersey, saved more than 700 hours in manual labor per month by implementing Rhapsody EMPI, while achieving a duplicate record rate of less than 1%.
Automating the duplicate records clean-up process supports healthcare organizations during mergers and acquisitions, when numerous duplicate records can result as organizations transfer patient data between systems.
Accelerating the revenue cycle
Accurate patient information positively influences the claims and reimbursement process for healthcare organizations. Research suggests that improving the accuracy of patient information during registration can prevent 90 percent of claim denials.
Transitioning to value-based care
Better management of incoming patient information will also support healthcare organizations in their transition to value-based care, which involves more coordination of patient care across different care settings. Healthcare organizations will be responsible for maintaining each patient's identity across many incoming data sources.
EMPIs for healthcare organizations
The compound annual growth rate for health data is expected to reach 36% by 2025. For provider organizations and data exchanges, the growth of health data only intensifies the responsibility to carefully manage each patient's identity and information. Next-generation EMPIs have a proven ability to streamline costs, help improve the delivery of safe and high-quality patient care, and enhance the patient experience.
Learn more about how Rhapsody EMPI improves patient and provider data.
For further reading