Will the Trump administration and the uncertain future of the Affordable Care Act and the AHCA derail the industry's move to population health and value-based medicine? It's extremely unlikely, according to two surveys conducted by 3M Health Information Systems, as reported by
Healthcare IT News
.
According to the report:
42% said they still support value-based care and population health management
89% list value-based care as a high or medium priority
82% said repealing the ACA will not stop value-based care
Those stats show that value-based care and a coordinated approach to patient care are going nowhere.
The report quotes Renee Broadbent, associate VP of population health technology and strategy at UMass Memorial, who said hospitals and health systems must consider four areas to have success in this new model of care:
Financial implications
IT infrastructure
Provider readiness
Cultural readiness.
"The idea that you build flexible systems is super-critical," Broadbent told attendees at the recent Pop Health Forum in Boston. "It's great that you collect all the data but, until you organize it, that data is not going to be helpful."​
The area of IT infrastructure is incredibly important for success in any healthcare model that features data-driven connected care. Because, without the patient data to feed the population health applications, they are unable to provide the necessary insights needed to improve care.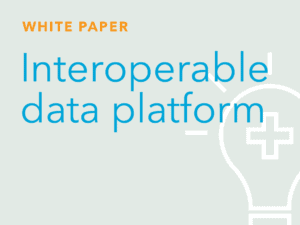 It's time for healthcare to adopt an interoperability-first approach to providing value-based care.
From population health management, to analytics programs, to patient-facing applications, health data is the cornerstone for value-based care. In order for that important foundation to support caregivers, that data must be made interoperable so that every application in use has the ability to send, receive, and access data.
Today's healthcare IT departments need a central command unit—or an "eye in the sky"—to help guide the flow of data between applications and systems, and to ensure that each caregiver and colleague has the right patient data, with the right insights, at the right time.
Once an interoperable foundation is established through Corepoint Integration Engine, hospitals and healthcare systems can act more interdependently with key IT initiatives, various vendors and partners, and patient delivery plans. This connected data foundation strategy not only enables interoperability, but it also empowers providers to meet any added industry changes with a solid foundation, flexibility, and freedom.
To learn more about how a connected data layer is the catalyst for value-based care, read our whitepaper, titled "Healthcare searches for IT stability to manage and implement change." And, if you'd like to learn more about how Corepoint Health customers are finding interoperability success, simply contact us and we'll be happy to show you why so many providers are finding success with the industry's leading integration engine.