Healthcare organizations must continually confront a changing and challenging landscape, and the need for interoperability remains a priority for all. This was the case for DocuTAP, one of Corepoint Health's vendor clients, when they made the decision to connect their on-demand care focused EMR and practice management software with CareQuality for sharing clinical documentation.
Not only was CareQuality their clients' preferred network, but Surescripts Record Locator & Exchange had a solution for hooking into CareQuality that DocuTAP could leverage using Corepoint Integration Engine.
The main goal for hooking into CareQuality was access to clinical documentation (including CCDAs, visit reports, encounter reports, etc.) for their providers. At the same time, DocuTAP wanted to share the clinical documentation in their database (such as demographic information and visit reports) with providers on the other side of the CareQuality network.
The DocuTAP team had an ambitious project deadline in mind, so they engaged the Corepoint Health Professional Services team to discuss timeline, scope, and to develop a plan.
Working with DocuTAP was one of Corepoint Health's Implementation Consultants who would serve as an architect, consultant, teacher, and builder on the project.
"He just hit the ground running," said Andrea Kooiman, an Interface Analyst at DocuTAP. "I mean, since we had that initial conversation, he already had background on what the goal was for the project. I was sending him documents, and he was really just building away and getting started, and being that technical person."
Creating a Seamless Workflow
Up to this point, the DocuTAP system heavily used Corepoint Integration Engine for ADT scheduling, interfacing with lab and radiology systems over TCP/IP connections with a VPN tunnel, and interfacing with whatever startups or software applications any of their 3,000 plus clinics chose.
To connect the DocuTAP system to CareQuality via Surescripts, Corepoint's Implementation Consultant built unique interfaces and workflows that introduced new, creative ways DocuTAP could leverage the power of the engine.
He created a sequence of workflows that unfold the moment a patient's appointment is scheduled. When an appointment is booked, the DocuTAP system automatically sends a scheduling message to Corepoint Integration Engine. That message then triggers a query to Surescripts requesting a list of all the available documentation pertaining to the scheduled patient.
The query returns a list of the available documents in the CareQuality network to the engine, which compiles the data into a JSON message and does a RESTful call back to DocuTAP. That list of the patient's clinical documentation is now accessible to the DocuTAP user, such as a physician, to review as well as query specific items on-demand.
A simple scheduling message initiates all of this. No human gesture in the user interface is required.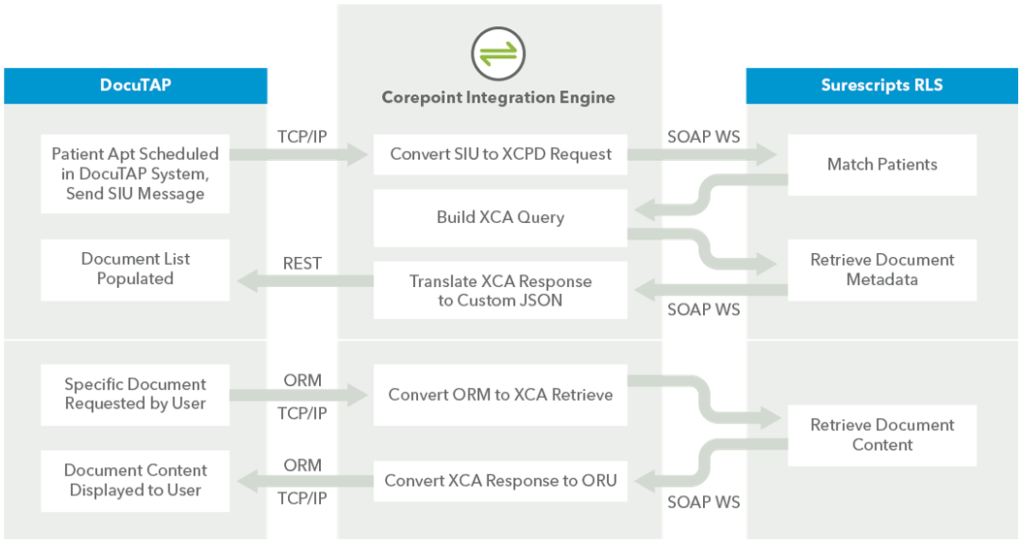 The Connectivity Component
One of the most complex parts of this project was connectivity. Working to integrate different vendors' IT departments and figuring out specific certificates required for mutual authentication was time-consuming for the team at DocuTAP. All the while, Corepoint's Implementation Consultant made progress with the Action Lists on his own to avoid any delays.
"There's a lot of moving parts in this project. Both internally with DocuTAP, and then externally with different vendors," explained Kyle Mertens, a Software Engineer Manager at DocuTAP. "For everything to line up as well as it did was shocking. Over the holidays. Short notice. It was a huge lift by everyone, and Corepoint definitely played a large role in that."
Disparate Message Formats
Another unique challenge was the disparate formats and standards used. Typically, the structure of an inbound and outbound message matches, but in this case, it was completely different on both sides of every interface.
There were HL7 v2, JSON, SOAP, and XML formats used, along with transport methods that include IHE Profiles, web services, files, REST, and TCP/IP.
Corepoint Integration Engine reformats the messages being sent and received so they are ultimately delivered in a manner that a physician can look at and understand, rather than an XML message with a lot of GUIDs (or global unique identifiers).
IHE Profiles
Sharing clinical documentation was a huge part of this project, and so were IHE profiles, or Integrating the Healthcare Enterprise. CareQuality is built on IHE profiles, and DocuTAP would now be utilizing cross-community IHE profiles in order to reach outside their system and into other communities.
Because of how this interface was set up—DocuTAP to Corepoint, Corepoint to Surescripts, Surescripts out to the CareQuality network and back again—different IHE Profiles were used for those transactions.
The Corepoint Implementation Consultant's in-depth knowledge and previous experience with IHE standards and schemas were instrumental, and he leveraged them to complete the project on time and on budget for DocuTAP.
Now DocuTAP and their clients can exchange health data across disparate systems and geographies in order to get a better picture of patients' longitudinal health records and deliver top-notch care.
"From a technical perspective, he was invaluable. With the timeline and the work that he did, I couldn't have done it without him, while also having to do everything that I was doing. He was awesome to work with," Kooiman explained. "He just went above and beyond, in my opinion, and I was really impressed."
Looking Toward the Future
There remains a lot of opportunity to use this connectivity to solve for situations outside of enabling DocuTAP and CareQuality to share data, especially as more urgent care clinics are partnering with, or being bought out by, larger healthcare systems.
DocuTAP offers a very lean system that streamlines functionality in the fast-paced urgent care environment. It helps providers get a patient registered, checked in, seen, and everything else in a matter of minutes. And being tablet-based means providers can move around their clinic with ease, versus logging in and out at various computer stations or terminals. Because of these reasons and more, clinics want to continue using DocuTAP solutions in an urgent care setting.
Connecting DocuTAP to the outside world and the outside world to DocuTAP allows clinics to continue using best-of-breed software, rather than migrating to cumbersome software meant for large hospitals. Clinics are able to continue using DocuTAP in a quick, timely manner, while also seamlessly integrating with the larger health systems. Now that is a win for everyone.
About DocuTAP
DocuTAP's team serves more than 3,000 urgent care and on-demand primary care clinics. DocuTAP provides urgent care practices with an innovative approach to workflow management. Its flagship product, DocuTAP's EMR and Practice Management software, fully integrates electronic medical records and practice management capabilities in one complete system. DocuTAP's complete on-demand healthcare solution includes Clockwise.MD patient engagement technology, revenue cycle management services, and business intelligence tools with custom reports. Craft a better on-demand healthcare experience with DocuTAP.