Marcy l'Étoile, France.
The company is present in 43 countries and serves more than 160 countries through its network of distributors. 
Reduced deployment timelines by 66% 

 

Eliminated manual data-collection tasks, allowing the team to focus on higher-value work

 

Automated the creation and delivery of labor-intensive reports

 

Accelerated turnaround times for tests

 

Eliminated the need for spreadsheets and manual manipulation of data—which now just takes a few clicks instead of days

 

Presented data in real time, allowing their customers to identify gaps instantly instead of waiting for manual analysis of data 

 
bioMérieux provides diagnostic solutions (systems, reagents, software, services) that determine the source of disease and contamination to improve patient health and ensure consumer safety. Its products are mainly used for diagnosing infectious diseases and some critical illnesses. Its diagnostic solutions are also used for detecting microorganisms in agri-food, pharmaceutical, and cosmetic products.
The Mérieux family has more than 100 years of experience in biology and the development of diagnostic tests. Marcel Mérieux, grandfather to the current president of bioMérieux, Alain Mérieux, first studied biology under Louis Pasteur. The company's strategic focus is fighting against infectious diseases, which it does globally through its presence in 43 countries, and by serving more than 160 countries with the support of a large network of distributors.
bioMérieux began looking for an interoperability platform in the U.S. market to reduce the time it took to deploy its instrument systems in laboratories. The company offers a middleware solution called Myla®, which connects bioMérieux instrument systems within a lab environment as well as to the LIS, providing users with a real-time overview and reporting capability of the systems it monitors. Though powerful, Myla has limitations in how much communication it can handle.
"The instruments within each Myla can communicate with each other, but one Myla can't communicate with another one," said Lee Hodge, senior data integration engineer for bioMérieux. This was problematic for some of bioMerieux's largest U.S. customers, many of whom have multiple Mylas within one lab.
Also, Myla operates on the same interfacing technology used in the instruments themselves, which limits the ability to adjust incoming or outgoing data, either within the platform or with an LIS. "This presented a lot of challenges in terms of timeline for deployment in the US market," Hodge said.
bioMérieux needed an interoperability platform that would:
Facilitate communication between Mylas and between each Myla and the LIS
Allow for testing within the build environment
Serve as a partner in helping bioMerieux's customers succeed
To accelerate deployment times and help its lab customers more effectively manage data, bioMérieux turned to Corepoint Integration Engine. Right off the bat, bioMérieux benefitted from Corepoint's ability to test within the build environment.
"This allowed us to work with the LIS and have that part covered so that once the instruments themselves were ready, we could just do instrument validation and verify that the interfaces were good to go. That took our deployment timelines and shrunk them drastically," Hodge said. The bioMérieux has seen a 66% decrease in deployment time when using Corepoint, accelerating deployments and decreasing downtime when bringing new instruments online.
Also, using Corepoint, Hodge was able to break up the Myla constraints so that bioMerieux's instrument systems could talk to each other without a dependency on the Mylas. With the help of Corepoint engineers and Support, Hodge created a logic within the engine to handle large amounts of communication among multiple Mylas.
And recently, bioMérieux began using Corepoint Community Exchange, which allows users to securely exchange patient data with remote, point-of-care applications. This provides transparency so bioMérieux can see what's going on with data.
"If there's some sort of hiccup — whether it be from the instrument to the engine, from the engine to the LIS, from the customer's engine to our data environment — we know exactly where it is so we can very quickly diagnose what's going wrong, fix that, move on, and get the data where it needs to be."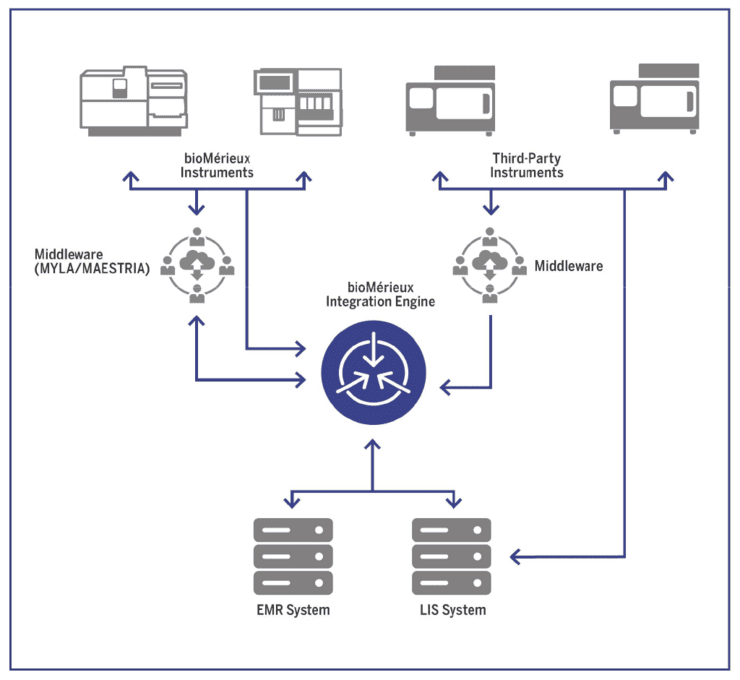 The results
Corepoint leads to time savings and faster time to value for bioMérieux customers
bioMérieux found that Corepoint not only answered its original needs but could also be used beyond what the company had initially intended.
One of its clients was having trouble producing bottle-load and positive-bottle reports, which lab managers need in real time. Using the engine, bioMérieux was able to store the order and results messages coming from its platform into different database tables and used Corepoint to analyze the messages. Based on the analysis, Corepoint was able to route the data to the correct device for additional testing, or back to the LIS if no further testing was required.
"On top of that, we created several Web Service connections, and we're serving up data from the engine itself to dashboards on web pages that the customer can see on a computer or TV monitor within their environment," Hodge said. "It's constantly updated with bottles that need to be loaded into an instrument, or bottles that need to be pulled off because they're positive [for an infectious organism]."
In addition, bioMérieux uses Corepoint with one of its new offerings, called bioMérieux Integration engine, which allows customers to analyze data not only from bioMerieux's instrument systems, but also from other systems used within their labs. "There are other parts of the laboratory beyond microbiology that produce a lot of information. For full laboratory reporting, our customers need data from everything," Hodge explained.
With Corepoint, bioMérieux can securely funnel HL7 data out of all the customers' lab systems via Community Exchange to its integration engine environment. It then runs the data through its SAS-powered analytics system and produces information for lab supervisors to use. "Customers can pull out their smartphone, tablet, or laptop, open Agilst, and see information right there in real time," Hodge said.
This has allowed bioMérieux to help its customers enhance one of the most commonly used reports in microbiology — the antibiogram. An antibiogram helps physicians determine which antibiotics will work best to fight different bacterial infections. They are complex, difficult to produce, and often contain data that's 12 months old.
"There's usually someone in the lab who spends the majority of their time processing last year's data to produce an antibiogram for them to use in the current or next year," Hodge said. Using Corepoint and the bioMérieux Integration engine, customers can now have access to the data in close to real time. "The fact that we're able to take their data in real time, provide up-to-date information, and produce the antibiogram on the fly within the platform — that blows their minds," Hodge said.
With Corepoint, the bioMérieux team has also been able to:
Minimize manual data-collection tasks, allowing the team to focus on higher-value work
Automate the creation and delivery of labor-intensive reports
Accelerate turnaround times for tests
Minimize the need for spreadsheets and manual manipulation of data—which now just takes a few clicks instead of days
Present data in real time, allowing their customers to identify gaps instantly instead of waiting for manual analysis of data
66% decrease in deployment time when using Corepoint
Faster time to revenue for bioMérieux & their customers
Real-time access to data, allowing clinicians to make faster decisions about which antibiotics will work best to fight bacterial infections
Since partnering with Corepoint, bioMérieux has been able to reduce deployment time of its instrument systems and offer added value to its customers. This means faster speed to revenue not only for bioMérieux, but for their customers as well.
"We needed to expedite the delivery of the platform because for the customer to utilize what they've put all these dollars into, they need to be able to use it fast. And the faster we can deliver it, get it into production, the faster they can use it. It's obviously a necessity for the customer, but it's necessary for us, too, so that we can start recognizing the revenue on the placement of that instrument," Hodge said.
Bottom line? bioMérieux has been able to meet its customers' data exchange needs, deliver faster results, and provide new offerings to users of its instrument systems.
"The Corepoint Engine does its job," Hodge said. "The part of it that's been equally as good has been the relationship. That's really hard to find."