When implementing an enterprise master person index (EMPI), health IT leaders should not only consider the integration and intake of data into the EMPI, but also how that data is consumed across the organization once each unique identity is created.
Healthcare organizations can only recognize the value of an EMPI once the deduplicated person data is shared and kept up to date, in real time, across the organization.
In this blog post, I'll cover the three essential aspects of implementing an EMPI and the importance of the data integration process when it comes to a successful EMPI implementation. I'll also explain how Rhapsody EMPI supports real-time outbound notifications for all identity data changes in the EMPI, including record additions, updates, and linkage changes. 
Key features of Rhapsody EMPI outbound notifications
1. Real-time updates: Rhapsody EMPI ensures that all new record additions within the EMPI generate notifications — essential for creating unique identities in downstream systems and data warehouses.
It's important that all updates, whether via integration feeds or activities performed by a data steward, are promptly sent to maintain up-to-date records across the organization.
2. Outbound notifications usage: Outbound notifications serve two primary purposes. First, they update downstream systems with a copy of the record cross-references, establishing a longitudinal view of data for each patient.
Second, they update these systems with a copy of the mastered demographics from the EMPI, which is critical for maintaining an accurate and up-to-date snapshot of a patient's information for display, search, or external integration.
3. Syncing demographic updates: Third, notifications can be used to provide updates of demographics back to a source system to keep it synched with the EMPI, or to send source system record merges back to the source system.
Curious how to choose an EMPI solution that's right for your organization? Read: 7 questions product leaders should ask when evaluating EMPI solutions
What are the primary use cases for Rhapsody EMPI outbound notifications?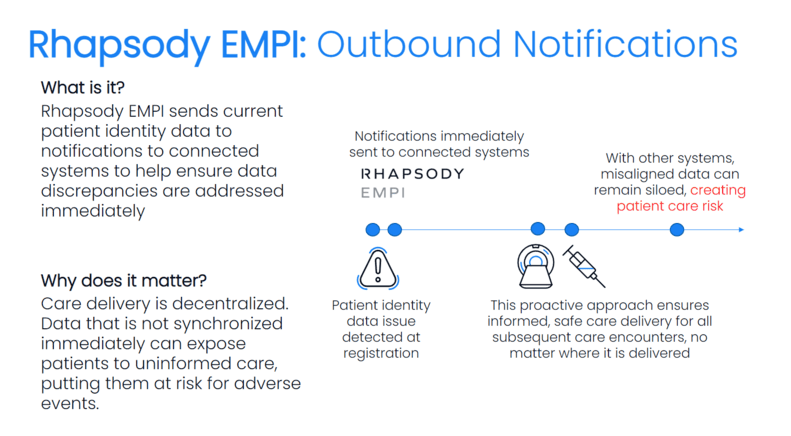 While outbound notifications can be used for many purposes, there are two primary purposes: updating a downstream system with a copy of the record cross references and updating a downstream system with a copy of the mastered demographics from the EMPI.
Cross references provide a relationship between individual records to create a longitudinal view of data for that person and can be maintained in a downstream system. As patient data is updated and changed, it is important to provide an up-to-date snapshot of each person's demographics to all downstream systems for display, search, or external integration.
1. Enterprise data warehouses and analytics: For data lakes, reporting solutions, and enterprise data warehouses, it is essential to maintain an accurate cross-reference that is continuously updated for precise analytics and reporting across a complete dataset.
2. Clinical use cases: Notifications are crucial for maintaining a real-time, comprehensive patient record that is accessed by healthcare providers, case managers, or patients themselves. This is particularly vital in situations where up-to-the-minute data is critical for clinical decision-making and patient satisfaction.
What are the benefits of outbound notifications?
1. Efficient access to accurate data: Notifications eliminate the need for frequent, resource-intensive querying of the EMPI, reducing latency, performance impacts, and inaccuracies, especially in scenarios with extensive data sets.
2. Real-time data synchronization: With real-time data being pushed across the organization, users can be confident that all person data is accurate at any given moment, supporting real-time workflows and powering informed patient care for providers, case managers, or patients.
3. Detailed data receipts: Notifications from Rhapsody EMPI contain comprehensive information about the changes made, including the type of activity, event context, time, the entity that triggered the event, snapshots of records before and after the update, and more.
4. Receive only the information you need: When the Rhapsody EMPI is integrated with a Rhapsody or Corepoint Integration Engine, notifications will send all information associated with that record, with the receiving system maintaining the ability to choose exactly which data it would like to use. If filtered or targeted information is required by a downstream system, the integration engine can be used to do that transformation and filtering.
What are the downsides to not having outbound notifications?
1. Lack of efficiency and impacts on performance: Without real-time notifications, downstream systems have to query the EMPI individually for updates, which is resource-intensive, causing latency and negatively impacting performance.
2. Data reliability for analytics and reporting: Latency in data updates undermines confidence in the quality of the output of reporting, analytics, AI/ML applications.
3. Clinical risks: For urgent healthcare needs, the absence of real-time data can result in clinical decisions being based on incomplete or incorrect patient information.
In summary, Rhapsody EMPI, through its real-time outbound notifications, plays a pivotal role in ensuring that patient data is accurate, timely, and efficiently distributed throughout an organization.
This functionality is crucial for both analytics and reporting tools, as well as for clinical decision making and patient satisfaction, emphasizing the necessity of up-to-date, synchronized, and reliable patient data in a healthcare organization.
For further reading:
Outgrown IBM Initiate or another legacy EMPI? Time for a next-generation solution.
Introducing EMPI innovations to better support health equity, workflow efficiency, and patient empowerment