86% of nurses, physicians, and IT practitioners report witnessing or knowing of a medical error that resulted from patient misidentification1.
These misidentification errors can stem from the fragmented, siloed nature of healthcare. For example, a patient's drug allergy may be documented in one system, but not another.
Test results can be attached to a record of a person with the same name, but a different birthdate. The resulting errors can cause minor administrative inconveniences — or may result in improper treatment that jeopardizes patient safety.
So how can healthcare systems improve identification to avoid such errors — while improving patient (and provider) confidence?
A longitudinal care record for each patient can not only improve patient and provider identification, but it can also be part of a larger identity management strategy. A trusted longitudinal care record can also serve as a foundation for better analytics and insights that support health equity and value-based care initiatives.
But what is a longitudinal care record? And what's the relationship between an enterprise master patient index (EMPI) and a longitudinal care record?
In our recent webinar, Making the Longitudinal Care Record a Reality with Identity Data Management, we explored how longitudinal care records have evolved and how they're being used today. Listen to this 30-minute on-demand session to learn:
How better patient matching brings the longitudinal care record to life
What goes into a comprehensive identity management solution
How two organizations successfully implemented their own longitudinal care records
What is a longitudinal care record? 
A longitudinal care record pulls together data from multiple sources and care settings to create a single, complete patient care record. This record supports managing patient health over time to improve outcomes while creating a solid foundation for larger initiatives that can improve a health system's overall engagement and efficiency.
The longitudinal care record is the next logical step in decades of work, with the HITECH Act representing a big step forward, all aimed at transforming healthcare from analog to digital and facilitating meaningful exchange beyond the walls of a single healthcare facility or system.
COVID-19 created new urgency for longitudinal care records. Patients were suddenly seeking and receiving tests (and eventually, vaccines) in new settings, such as pharmacies or health departments. Health systems wanted access to this data to ensure care continuity, as did local, state, and federal health agencies tasked with determining the pandemic's extent, course, and mitigation.
A longitudinal record can support these needs while empowering AI and machine learning to derive insights that lead to better outcomes and more efficiency. In the COVID case, a longitudinal care record helps ensure that a patient's full vaccine and test status are visible no matter where the patient sought care, ensuring the provider had the latest information while reducing the need for (and expense of) duplicate tests or care.
How EMPI enables longitudinal care records 
An EMPI can be the ideal enabler for longitudinal care records. By design, an EMPI connects person data across disparate systems and sites of care, then matches records and resolves duplicates at the enterprise level.
Once a singular set of data for each person is defined, an EMPI delivers the accurate identity data that you need to establish a single record for each person. With this record, you can enable timely access to authorized providers, payers, and others — and they can rely on this trustworthy, accurate data to make decisions about care.
That's why an EMPI is a critical foundational tool to help organizations create a true longitudinal care record that follows patients over time across healthcare systems, enabling better continuity of care. Eventually, such continuity can improve long-term outcomes and even support population health initiatives and decision-making.
Must-have capabilities for an EMPI  
Not all EMPIs are created equal. Think of your EMPI as a key component of your identity management strategy, not simply a tool for patient identification. Consider the bigger, longer-term picture. An EMPI needs: 
Connectivity to all types of sources, including those that don't yet exist within a growing organization
Scalability to handle growth over time, whether organic or through mergers/acquisitions
Advanced data management features, such as overlay management and resolution
To support health equity and other new initiatives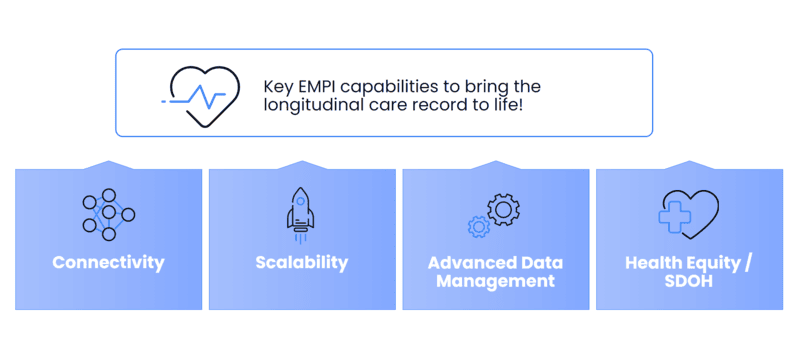 Since care delivery is increasingly decentralized, EMPI data also needs to flow appropriately to all downstream systems to ensure providers have the most current data to make care decisions. Automated outbound notifications ensure that connected systems don't lag behind, avoiding risks to patient care.
Likewise, EMPIs need strong overlay resolution workflows that can quickly identify, quarantine, and resolve records that may have been overlaid with incorrect data. A good EMPI will also provide a way to track trends in overlays so you can identify opportunities to improve processes.
At its best, an EMPI can foster true interoperability by integrating the data and identifying patients. But don't overlook the crucial next step: using semantic terminology management to normalize, standardize and map data to recognized standards so that it can be understood and used by disparate systems.
With all these pieces in place, you can bring longitudinal care records to life. See the 7 questions you should ask when evaluating EMPI solutions.
Case studies: Two organizations thriving with longitudinal care records 
During the webinar, we also shared two case studies about organizations that have successfully implemented longitudinal care records.
CyncHealth, the designated health information exchange (HIE) for Nebraska and western Iowa, is now connecting constituents with 4,000+ health and social agencies and programs. CyncHealth's web-based application aggregates each individual's health information from multiple providers into a single place, delivering a single view that's improving health and health equity throughout the region. During the COVID-19 pandemic, CyncHealth was able to provide critical insights that informed the region's COVID-19 response and mitigation efforts.
Connecting Care is a partnership that shares digital care records across 13 organizations and 2,000+ users throughout parts of the UK. Connecting Care's longitudinal care records unite patient data from 13 disparate systems across health and social care, including social workers, local government, mental health, NHS, general practitioners, and other services. To date, Connecting Care has processed more than 6.5 million records.
Start your own journey to a longitudinal care record 
A longitudinal care record can be the next step towards full interoperability throughout and beyond your health system. Learn more by watching the on-demand webinar or reaching out for a demo. We can help you think through the right strategy for your organization.  
1. 2018 Mid-Year EHR Consumer Satisfaction Survey, Black Book Market Research.