Rhapsody health solutions subject matter experts recently hosted a webinar highlighting customers' key initiatives in 2023. These include migrating to the cloud to do more with less, building a healthy data foundation to create value and efficiency, and ensuring scalability and security while increasing the number of data-trading partners.
What's driving these initiatives? How can you count on Rhapsody health solutions to support similar initiatives in your organization? We invite you to watch the on-demand webinar 2022 Wrapped: What We Heard from You in 2022 to learn more — or, read the transcript below.
Webinar speakers included:
Drew Ivan, chief strategy officer, Rhapsody
Bernard Echiverri, senior director of professional services, Rhapsody
Moderator Shelley Wehmeyer, director of product marketing, Rhapsody
Read the full transcript, or Skip to:
Why is cloud migration important?
Planning for a cloud migration
What's driving cloud migrations?
What deployment options exist for those who aren't ready to move to the cloud?
Going from data liquidity to data enrichment
Operating on a foundation of healthy data
Developing data infrastructure based on people, not technology
Architecting for semantic interoperability
What is driving vendor consolidation?
Creating a person-centric data architecture
Shelley Wehmeyer: In 2022, over 33 customers have been onboarded by our cloud operations team to a cloud solution. Drew, could you put these numbers into perspective? Why is cloud migration important?
Drew Ivan: 2022 seemed to be the year cloud adoption really took off. In 2018, before Rhapsody and Corepoint were a part of one company, each integration engine had offerings in the cloud when deployment began in 2018, with only one customer each. In contrast, by the end of 2022 Rhapsody health solutions has hosted 118 customers in the cloud. Although the number reflects less than 10% of our customer base, it boasts very fast year-over-year growth. 118 doesn't reflect customers of ours that host our products within their own cloud, so including that number it is even higher. Overall, the cloud adoption for integration is growing aggressively.

SW: Bernard, you were involved in the early stages of planning for our customers' success with the migration to the cloud. Have you seen that come to life? What's been your experience from the professional services side?
Bernard Echiverri: From a delivery standpoint we're seeing increasing momentum and the shift toward the cloud and those initiatives. Thinking back to 2017, we had a single customer in the cloud and we're at 118 and counting, signing more this month. We're seeing increased adoption from a utilization standpoint and aligning our services appropriately to scale out in that direction.
SW: Why are our customers coming to us for cloud solutions? Why are customers migrating to the cloud? What are the motivators?
DI: For one thing, it's time. Healthcare was slow to adopt the cloud and for good reason. Healthcare data is protected at a very high level and to put that data somewhere that's accessible by public networks is not something you do lightly.
The industry moved to the cloud rather conservatively, the public cloud infrastructure providers have proven that they have a high level of security and capability and high levels of uptime over the years now.
It's proven to be a safe place to put healthcare data, but the pandemic accelerated cloud adoption. If you have an on-prem data center but a lockdown, no one can go in to maintain those servers or if so, it's done at a lower capacity. The cloud is much more scalable, flexible, and nimble to spin up new servers in the cloud. Those benefits were really driven by the needs the pandemic put on us.
BE: In addition to that, we are seeing some of the impact of the shift of the great resignation. Our client base oftentimes needs to do more with fewer people.
Part of that is consolidating the various enterprise platforms in the cloud, removing the need for a heavy infrastructure presence. As well as needing people who can attend to those interfaces and interoperability, maintaining the day-to-day as usual but continuing to meet the needs of growth initiatives.
Just because there's a pandemic doesn't mean that organizations are stopping the growth initiatives to expand and certainly, we've seen a lot of customers that have started during the pandemic, specifically to address the needs of the health care system.
SW: We have some customers that cannot move to the cloud yet. Drew, can you speak to our flexible deployment options?
DI: All the products we offer have been in the market for a long time, and as a result, they were born in an on-prem world. We haven't taken away that capability, but due to the demand we just discussed we need to have cloud offerings as well.
We have levels of cloud service to suit every style our customers are looking for. On one extreme, we can deploy on-prem or in a customer's cloud. At the other end, we can allow customers to deploy our software in their own cloud and they can in there. We can deploy our solutions as hybrid solutions or interoperability as a service. All the way to the point where we take care of everything, from installing and managing to configuring and operating.
It's a matter of where our customers want to draw a line between their efforts and ours.
BE: Throughout that entire continuum of deployment options, our professional services teams, education, and support teams are available to help with those customers' journeys to ensure success with all of them.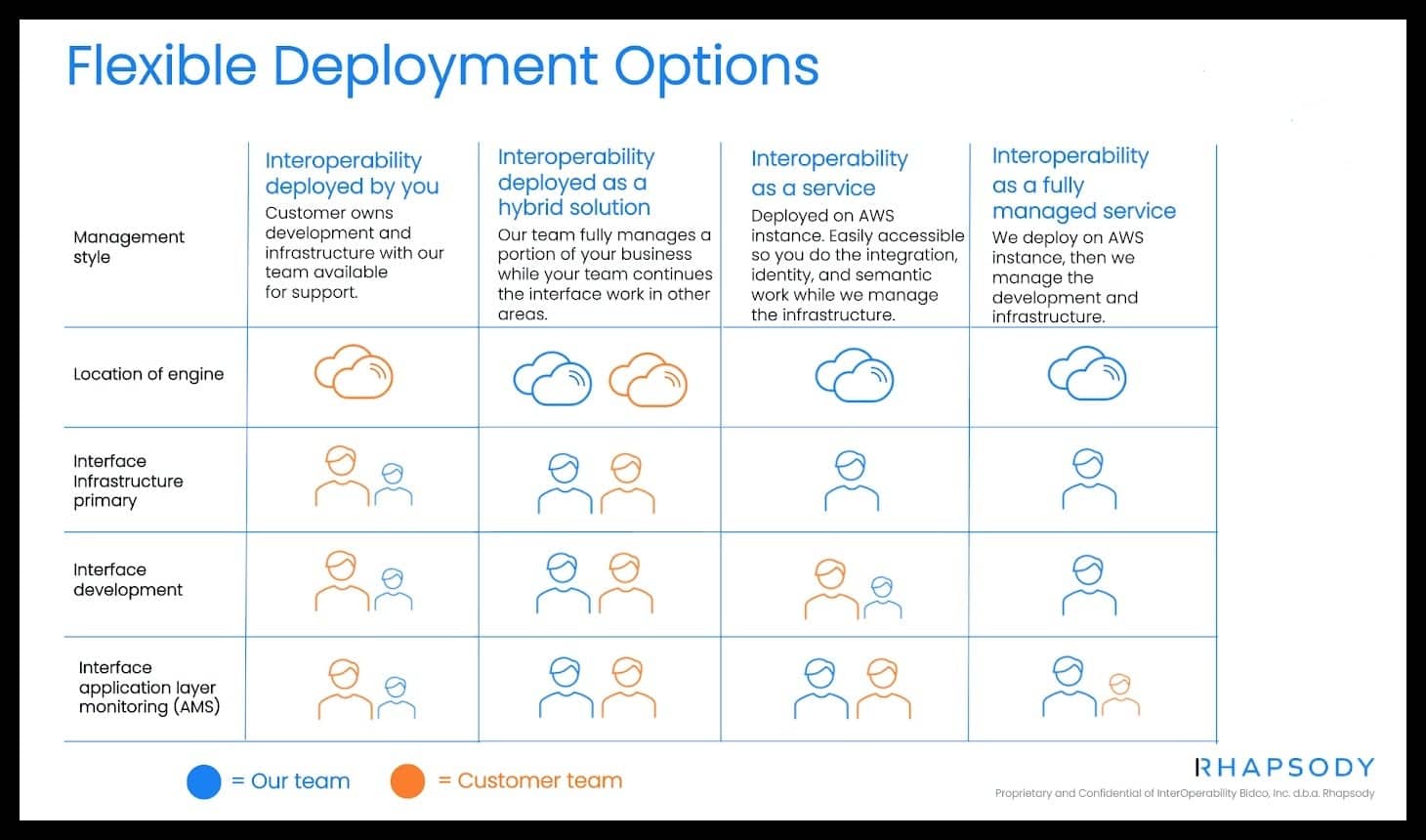 SW: Let's talk about the second thing we learned from our customers, which is the evolution from data liquidity to data enrichment. They're saying, "Help us achieve a healthy data foundation."
At our CONNECT event, we shared some humbling statistics: 86% of nurses, physicians, and IT practitioners have witnessed or know of a medical error caused by patient misidentification. And 76% of all lab data is not mapped to the standard LOINC coding.
We understand from our customers that there's an increased awareness to avoid introducing risk through disconnected systems as you're onboarding more and more data sources, including non-traditional healthcare data sources, and working with non-traditional healthcare data.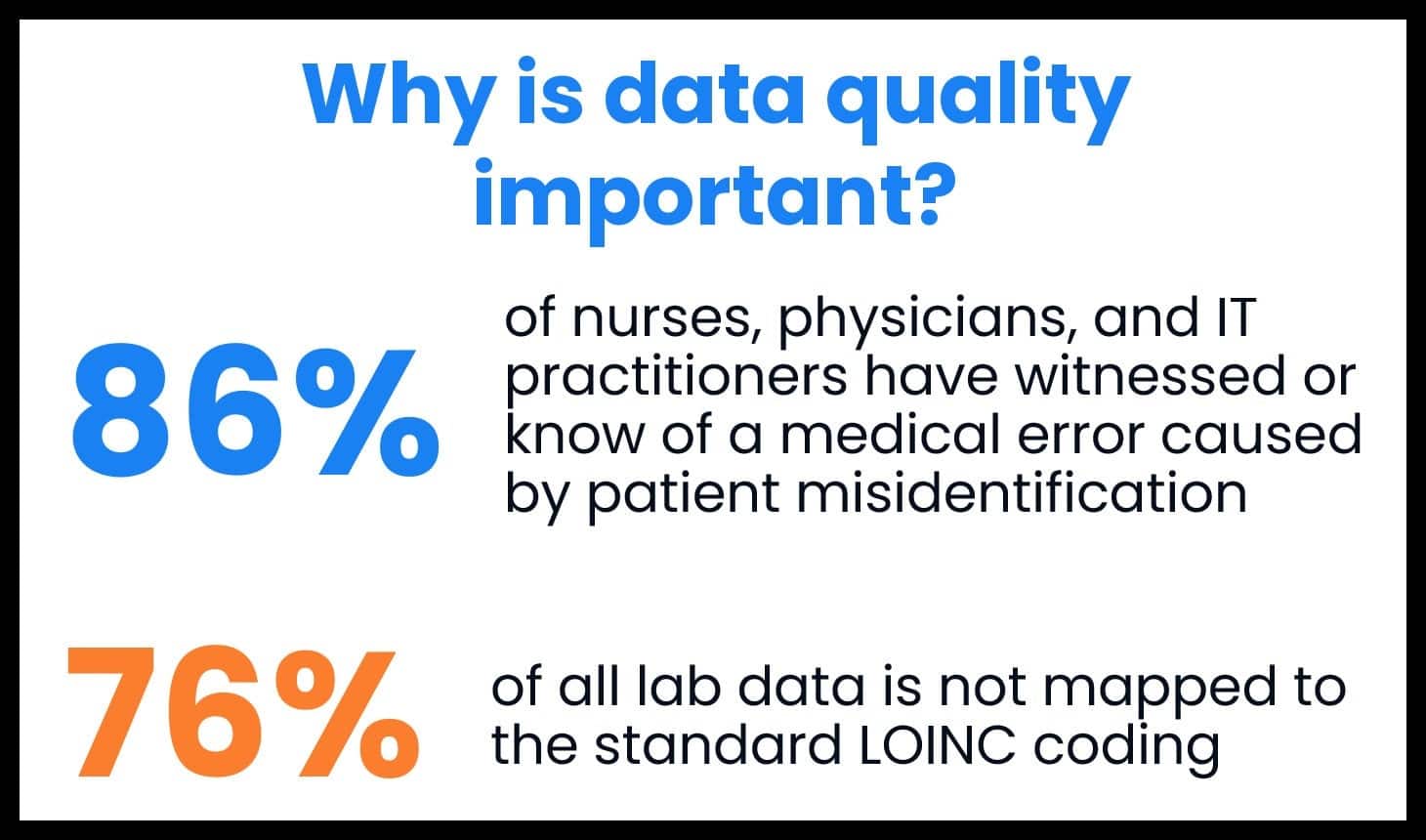 SW: Customers are being asked to do more with their data and want our help to ensure they're operating on a healthy data foundation. Drew, do you want to speak to what you've learned from our customers regarding this goal?
DI: We've been working on this problem for a long time in terms of moving data between and among systems, and that involves a number of steps. One of them is just connecting the two systems together. Then the next one is mapping data fields from the source system to the destination system.
The turning point that we've reached is thinking about how do we make sure that both systems agree on the meaning of the data in those fields, which you can solve through manual effort. As part of the interface, you can make sure that the same coding systems are in use or manually map them, but we're starting to get better tools that can help us map different code sets.
That's where Rhapsody Semantic comes in. With the code sets built-in it helps map from one code set to another, which is a much more important problem now. As we start to move to a place where the standards are increasingly specific about the code sets you can use, we're finding that a number of systems out there just aren't using those code sets and there needs to be that translation layer. So, that can either be a manual process or it can be automated through technology. So, that can either be a manual process or it can be automated through technology.
SW: What about you, Bernard? Are you seeing much of the same in the projects your team is working on?
BE: One of the things that we hear often from our customers, especially those that start with an integration engine as part of their solution suite, they buy it to achieve specific objectives, such as implementing a new EHR and replacing the old integration engine with one of ours while modernizing and rebuilding interfaces.
Then during those projects, their senior leadership teams get a better understanding of what our integration engine solutions are capable of, and how quickly and easily they can leverage those to further enrich the data or further add to their identity management workflows.
With many other use cases, they're getting asked to sit in on those strategic-initiative meetings and take part in architecting and deploying those solutions. So, it's great to see those types of activities.
SW: A person navigating a healthcare system, whether that's a clinician or patient, outside the walls of the care facility doesn't realize they are hopping from system to system to receive healthcare. Being able to architect a dataflow that represents how a person expects to be treated and how they expect their data to go with them, which means we must do work on the backend to do that reconciliation in a safe way.
DI: In healthcare, especially an inpatient setting, there are a lot of handoffs between one care provider and the next between departments and between individual clinicians. Oftentimes, those handoffs are all mirrored in the data flow between systems.
For example, a patient may be admitted to the emergency department and taken to the radiology lab for an X-ray and then admitted to an inpatient ward. There are probably three different systems for those three different settings and data flows between them, along with the patient.
Healthcare systems are beginning to stop thinking in terms of the departments and the software that supports them and starting to put the patient at the center. As you change your frame of reference from the operational flow to the patient, that really gets you thinking about what the data really has to say about this patient as the data is moving around.
That's where we introduce the concepts of properly identifying the patient with a unique and enriched patient record. Then ensuring all the transactions about that patient are machine readable, not just something that a system can put on a screen for a person to read. If the system can understand at least some of the data that's in that message, then you can deliver much better care for that patient.
SW: It's taking that phrase, "right data at the right time, in the right hands," not just the right data, but in the way that that person needs to consume it and can understand it.
One of our customers who is using both the Rhapsody Integration Engine and Rhapsody EMPI application, credits the work that our solutions do in the background to aggregate data in a way that is ready to be curated for the patient experience as key to the success of their customers. It's a critical piece of their technology stack.
SW: I'd like to go back to what you said, Bernard, about how we're seeing our integration engine end users be asked to join the table as organizations are figuring out how they mature their architectures to achieve semantic interoperability and reconcile systems. Do you have any anecdotes you'd like to share about the role of professional services in those strategic conversations?
There are a number of health equity initiatives occurring in the health IT environment that are key to be aware of as health equity rises as a top priority to address:
BE: Absolutely. We work with a public health department that wanted to stand up an immunization repository where any citizen with recorded immunizations can login via their mobile app, and we're going to see more of that as a proliferation of patient engagement via mobile technology taking hold in the healthcare industry.
They're extracting the patient data from the client registry, in JSON format, building out FHIR patient resources, and sending those FHIR patient resources over through the Rhapsody API Gateway, which calls the API to the FHIR server to create the patient resource in the FHIR repository. Then they extracted the immunization records from the existing registry, and they were able to combine that information so that for every patient in the FHIR repository, they now have the immunization data that is accessible from those client apps that are on the phones of the patients.
SW: I love that story. It reminds me of how so many of our customers have been looking at our API gateway as a way to be more efficient. Customers are telling us that they need to scale. That they need to start working with APIs. They can't employ a whole new team, and don't have the means to procure and support some giant API management platform. Rhapsody is working side-by-side customers, figuring out how we can help them extend the power of their integration engine and the team supporting it with our API gateway. Using it to unlock what you just described, turning on an API gateway, turning on a FHIR server, but all still through Rhapsody and through this partnership, we already have the relationships, and support teams in place.
Customers are increasing the number of data trading partners that they work with, meaning onboarding new data sources at an increasing rate.
SW: On that note, what have you seen in the industry, Drew, about customers looking to gain efficiencies through consolidation of vendors? What's driving customers to want to do that?
DI: There are two forces working in opposite directions here. On one hand, a way to become more efficient is to automate workflows through technology.
That very often means bringing in new vendors into the environment and in your IT department. When you bring in a new vendor, it means a new security questionnaire process that they have to go through, contracting, and a new relationship with a new support organization. There's a lot of complexity as you expand the number of vendors.
On one hand, you want as many automated tools as possible, on the other hand, you would also prefer to do that through a limited number of vendors to simplify the administrative management of all those relationships. So, you want your IT environment to be as simple as possible, but no simpler.
What we're seeing is that a lot of organizations have grown the number of systems they have in use, partly due to the pandemic, partly due to other competitor pressures.
They're taking a step back now and rationalizing their environment, trying to discover the applications that they could do without. Or maybe there's multiple applications that overlap in a way that they could eliminate some of them.
So, we're starting to see that be a trend among our customers is taking a close look at the vendors that they're working with.
BE: In anticipation of seeing more consolidation, we're spending a considerable amount of time and energy focusing on how we can synergize the effects of combination, the various platforms, and the interoperability suite.
We're taking a lot of time to talk among the teams and cross train on products and look at ways in which we can expedite implementation. Especially in instances where we've got customers who have already purchased one of our solutions and are now adding another, or new customers who are purchasing multiple of our solutions to implement this is the broader suite.
SW: Thank you both for your perspectives. We've talked about how we've extended our integration engines with the API gateway and a customer who is using that set-up to work with APIs to enable an immunization tracking app. We can't leave this webinar without talking about other ways we've heard how our customers are adopting APIs.
One little marketing indicator of this being a hot topic was that our July 2022 webinar had 10 times as many registrants, four times as many live attendees, and five times as many on-demand video views as compared to a typical webinar engagement.
We saw a lot of traction coming from the interest of what the industry is predicting regarding API adoption in healthcare and where were seeing it come into a reality last year and this year and post-pandemic acceleration, connecting data sources and doing more with that data.
What have we heard from our customers about how we can help them keep up with new data types and the increasing pace of data integration?
Drew, what you've seen through your strategy and product conversations and then hear from you. Bernard, from the services side?
DI: I think APIs are taking off for two reasons. The first reason is that we have the FHIR APIs in healthcare that are now mandated across a variety of settings, and the past 12 to 18 months has been a period of rapid adoption of those FHIR API capabilities.
So that's one vector along which FHIR adoption is improving.
But the other one is, healthcare integrations are beginning to involve what we would consider nontraditional software systems.
They're starting to reach out to customer relationship management software or supply chain software, and if you think a CRM is going to be able to exchange HL7 messages with your EMR, that's wishful thinking.
All those nonhealthcare systems have API based integrations. As that data becomes increasingly irrelevant to healthcare workflows, in order to integrate them, we have to make API style integrations, and that's something that's new, as well.
Going back to what we talked about earlier, as we start to focus more on patient flow, and putting the patient at the center of healthcare, it starts to bring in a lot of data from other systems. That is not in the registration system, or the EMR, or the billing system. Those integrations happen through APIs between FHIR and nontraditional healthcare data. Those are our two big drivers API adoption in the recent past.
BE: It's not uncommon these days to get into conversations with prospects and existing customers that have a need to integrate with a nontraditional system. CRM systems, for example, we're seeing more and more of that type of activity, and our team has successfully helped integrate our interoperability engines to Salesforce. We're also seeing that type of technology being utilized to help scale faster.
For example, we have a client that operates hundreds of outpatient therapy locations, and they have a self-hosted FHIR registry.
Their workflow manages patient demographics, medical conditions, insurance, coverage, and appointment scheduling and those workflows are really enabled via Rhapsody health solutions and the integration engine on the front end where it's connecting via more traditional, heavier protocols like HL7V2, when the patient comes into a clinic and makes their appointment.
The engine will then use the APIs to the FHIR repository to check to see if a patient exists, create them if they don't update them, if they do, and then, you know, create the schedule.
Then, that third party system will come out, query the FHIR repository to populate a patient portal where patients can confirm their information and cancel or update deployments, again, extending the reach of the technology out into the hands of the patient.
We're going to see more and more of that, as time goes by.
SW: We've already woven it into the conversation thus far, but let's talk a little bit about what we are doing at Rhapsody with everything that we've learned from our customers this past year.
We really are doubling down on what we do to make your cloud migrations and other projects as smooth as possible. We deliver identity and terminology management solutions integrated with our integration engines to help you make the most of your data and add efficiency to what you need to do to operate.
We're providing an API gateway and education services that help future proof your teams and your architecture for an accelerated and secure API adoption, putting the person in the center of those architectures.
We've also created guides, such as:
SW: Then to bring this to a close, I want to offer up a visual that shows how we're thinking about a person-centric architecture that supports complete data quality, beyond exchanging the data, but also reconciling that person data and reconciling clinical codes across the sources. Ensuring a gateway and a FHIR server and authentication server are available when needed to broker that information on its way in and out.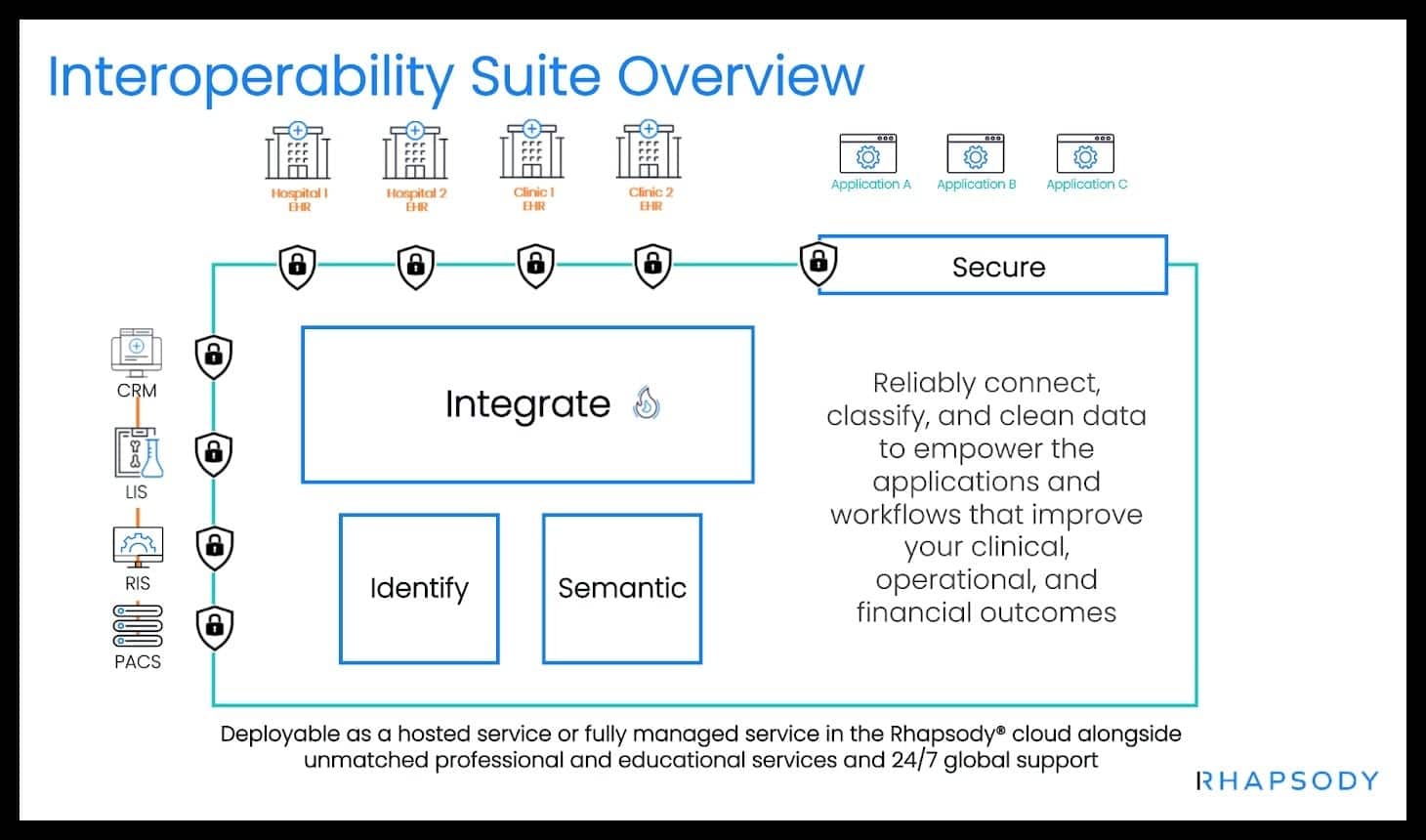 When we think about integration at the enterprise level, there are a lot of capabilities that need to exist and it's a little bit different for every enterprise, but this is a prototypical one where we have capabilities to do FHIR, data storage, API handling, traditional HL7, DICOM, Code Translation person, person identity matching.
All these are capabilities that we've realized through different products in our portfolio. But what we really want to think of is the higher level here of what our customers are trying to do, and what capabilities do they need, and how do we best supply those capabilities?
This is the type of diagram that we always knew our customers were making. As they begin their interoperability journey, but now we're starting to think in the same terms more so than the siloed product perspective we've had in the past.
So, this is a transformation. It's been an evolution for us, and 2023 is going to be the year where we really push that forward and start to build this into everything we do.
Stay up-to-date with the latest health data management trends by subscribing to our monthly newsletter, The Integrator.