As health systems and physician practices look for ways to handle the decline in volume during the pandemic, many are turning to telehealth platforms. But deploying a telehealth platform covers only part of the problem. Bi-directional data exchange with EHRs, practice management programs, and billing systems is key for continuity of patient care and revenue generation.
"Telehealth is just healthcare now," says health economist Jane Sarasohn-Kahn. Providers are reporting that they're now doing between 50 and 170 times more telehealth visits compared to pre-COVID times, according to consulting firm McKinsey & Company.
Consider the volume of data exchanged with a telehealth platform and all the other systems — internally and externally — in a provider's environment: the EHR, billing, scheduling, pharmacy, radiology, lab, and health plans. If data isn't flowing securely and easily through these systems, continuity of care and provider reimbursement could be at risk.
What's the integration engine's role in telehealth?
There are several different telehealth models, and all of them require some form of integration.
In the first, a provider has a telehealth platform and uses it to perform patient visits virtually. In this scenario, an integration engine is used to exchange data with the provider's various systems, including the telehealth platform, EHR, scheduling, billing, and other systems. The telehealth platform must also be able to exchange data with external systems, such as orders for radiology, labs, or prescriptions.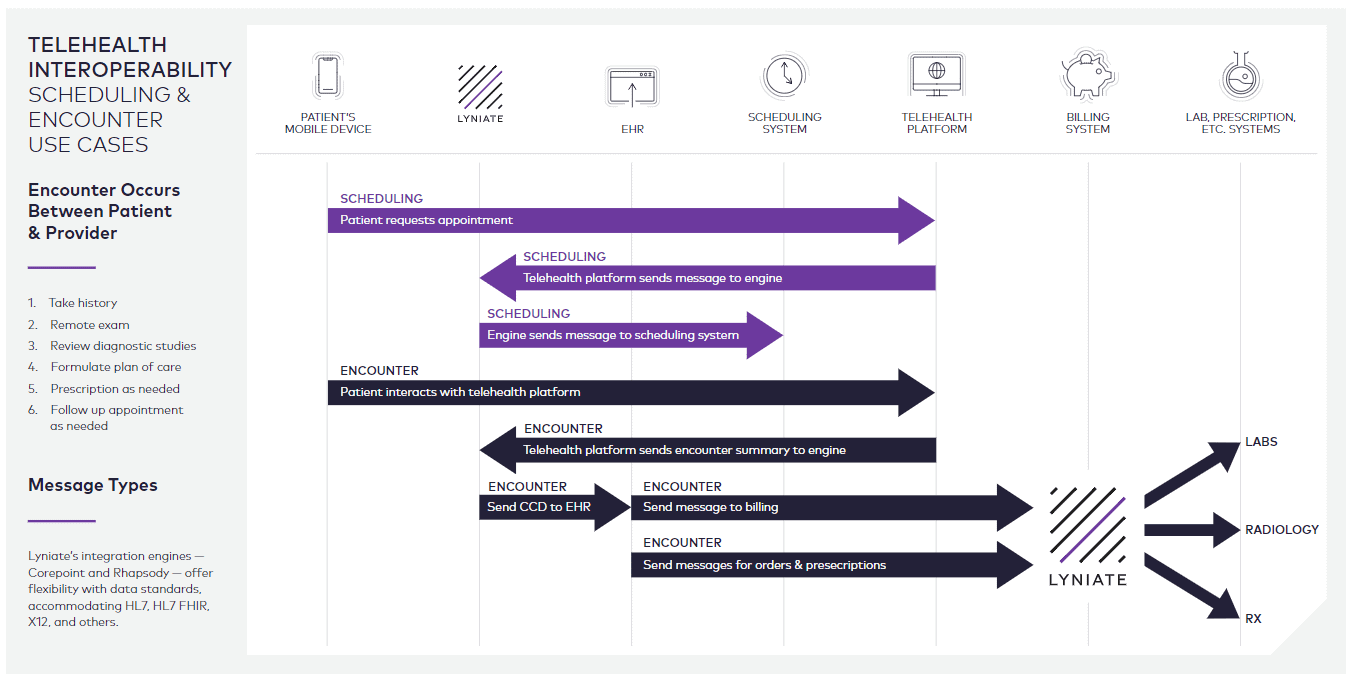 In a second model, a large telehealth company employs physicians who see patients virtually. The physician will need access to data such as the patient's medical history, demographic information, and list of prescriptions. The telehealth platform requires an integration engine to connect with various providers' EHRs.
In a third model, large IDNs can use the integration engine to launch the telehealth platform from within their EHR. Any data exchange related to the telehealth visit that happens outside of the EHR can then be routed back into the EHR via the integration engine. Rhapsody engineers can work with your team to create a solution that works in your environment.
Which stakeholders within a telehealth environment need an integration engine?
Providers and health IT vendors. Depending on the provider's IT infrastructure, they may need an engine to integrate their telehealth platform, EHR, and other disparate systems.
Vendors have a choice when it comes to integration: build it or buy it. Building it requires redirecting highly skilled developers to creating new, custom (bespoke) interfaces for every trading partner with whom their customers exchange data. Buying it, however, allows vendors to take advantage of decades of experience from experts whose sole focus is creating healthcare data interfaces. For health IT vendors, having an integration layer allows vendors to quickly and easily adapt their platform for any provider's environment.
How can you use Rhapsody health solutions to enable telehealth?
Let's look at a scheduling use case. With an integration engine, data can be exchanged bi-directionally between the EHR and telehealth platform. A provider can schedule a patient encounter from within the EHR, which would trigger a scheduling HL7v2 message.
The integration engine receives this message, turns it into an API call, and calls the telehealth platform's API (a JSON-based REST API) to update the scheduling and vice versa.
Or, if the provider is scheduling from the telehealth platform, it will trigger a call to the integration engine, convert the JSON object into an HL7v2 scheduling query message, and send it to the EHR. It then gets the response back and converts it into a JSON object. In other words, if a provider registers a patient in the EHR or adds new information in the telehealth platform, that data can be passed bi-directionally through the integration engine.
Rhapsody health solutions handle all healthcare data standards
Rhapsody health solutions help users meet data transfer standards so they can develop the best telehealth solution for their provider customers. This includes FHIR R4 — the standard that the U.S. Department of Health and Human Services recently required in its two interoperability rules released in March 2020 — as well as X12, a common data format used by payers.
Why Rhapsody for telehealth?
Rhapsody reaches far and wide in the realm of connecting healthcare, including:
Public health
Patient engagement
Patient outcomes
Prior authorization
Virtual care
Consumer engagement
Health information exchange
Communications Embedded at the bedside
Release of Information
Analytics
Supply chain
Clinical data integration
Let's talk telehealth
Connect with one of our interoperability specialists to learn how Rhapsody can help you deliver better healthcare.
Contact us.